England
'I don't care anymore' - Shelvey gives up on earning England recall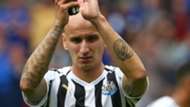 Jonjo Shelvey says he has given up hope of ever playing for England again.
The midfielder has made himself a key player at Newcastle United, bringing up a century of games at the club, and providing 19 assists as well as seven goals.
Shelvey is widely regarded as a midfield metronome, a player capable of picking a pass, and he believes that he could have provided the final ball during England's desperate World Cup semi-final loss to Croatia.
He last played for England in 2015, in back-to-back international friendlies against France and Spain. He played just 11 minutes against Les Bleus, however, and one against Spain.
Shelvey has played 90 minutes just twice, versus Lithuania and San Marino. He has won just six caps in total, his first also coming against San Marino, and another versus Switzerland.
He felt he had a real chance to be included in England's World Cup squad, but he has now given up on the prospect of ever earning a recall under Gareth Southgate.
"To be honest, I don't really care anymore," he told The Independent . "That's me being honest. I did care, but now I've sort of given up on the idea.
"I'm obviously not his cup of tea. I've never been told that but that's the feeling I get.
"In the summer I thought I had a real good chance. I was checking my phone all the time. That's not a lie. My whole family thought I had a good chance.
"It wasn't to be and I thought at the start of this season I might get a sniff, even if it was just a call-up to be around it, but it ain't to be.
"It does hurt you. You want to be there. You felt they struggled to make the final pass, to create that chance. I could have been that man."
Shelvey will be hoping to inspire Newcastle to a first Premier League win of the season as they travel to take on fellow strugglers Southampton on Saturday.