African All Stars
'I cried the day I signed for Arsenal' – Gervinho recalls 'dream move'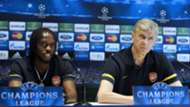 Parma striker Gervinho has labelled Arsenal as the only club to have the biggest influence on his career.
The Cote d'Ivoire international joined Arsenal in July 2011 after helping Lille win a double in France [Ligue 1 and Coupe de France titles].
However, the 31-year-old endured a torrid time with the Gunners notching 11 goals in 63 appearances and also blamed former manager Arsene Wenger for playing him out of position during his two-year stint.
Despite the setbacks, Gervinho still sees his time at the Emirates Stadium as a dream come true.
"Arsenal are the team that have left the biggest mark on me, without a doubt. I lived a dream. Any kid who starts playing can't help but to dream to play at a club like Arsenal," Gervinho told the Guardian.
"The day I signed I cried. I remember it like it was today: it was in 2011, I told all my family and was jumping for joy. It was a source of great pride to sign with a club like that.
"I didn't lose my smile from the first to the last match at Arsenal. I remember when I left I wanted to thank everyone, even the dressing-room staff."
Gervinho - born in Anyama, a south-eastern city in Cote d'Ivoire - started his career as a youth player for Abidjan-based academy ASEC Mimosas in 1998 and later joined local based side Toumodi before he travelled to team up Belgian side Beveren in 2005.
The move to Beveren opened the doors for transfers to Le Mans and Lille, Arsenal, Roma and Hebei China Fortune
Regardless of his success at club level, the pacy winger described the joy he felt to be a member of the team that won the 2015 Africa Cup of Nations and how the challenges faced while growing up have spurred him to success.
"You must never forget where you came from. I was born in a tiny place in Ivory Coast, so being a protagonist in this life is a dream. I started playing football in Abidjan, my African town, without even having shoes on my feet," he continued.
"I was lucky to go on to have a good life, thanks to my passion. I played in the club of my dreams, Arsenal. I won a league title and a French Cup.
"I brought the Africa Cup to the people of my country and felt like a hero. I had great champions as teammates and I think I have many years in my career ahead of me.
"I have no regrets, I just want to enjoy every moment, every action, every shot on goal, because all of a sudden one day it will all end and without football life is sad.
"When I grew up I had to play without boots. In Ivory Coast it's very hard to have normal shoes, so just imagine football boots – they were considered a true luxury.
"In the academy where I grew up there were only players with no shoes like me and when I went back a few years ago I played with no shoes next to them.
"But in that academy, it became a philosophy. They tell the kids: 'You play with no shoes on, so you learn how to better control the ball. When you have shoes it will be much easier and you'll become champions.' And after many years, after reaching some milestones, you finally get those boots. Joy after suffering, always with a smile. Unforgettable."
Gervinho returned to the Italian top-flight this summer after a two-year spell in the Chinese Super League with Hebei China Fortune and he has scored four goals in eight Serie A matches so far.