Chelsea
How Thorgan Hazard is stepping out of his brother's shadow as he matches Eden goal for goal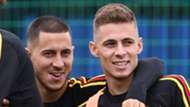 Before Belgium's run to the World Cup semi-final, Roberto Martinez's side had to navigate a difficult qualifying group including Greece and Bosnia and Herzegovina. Having won their first four games comfortably, with Eden Hazard in three of them, the Red Devils were forced to do without their star man for the home game against Greece.
Eden's younger brother Thorgan Hazard was drafted into the squad to replace him but failed to get off the bench as Belgium could only draw 1-1. By the end of the campaign, they had won the rest of their games, with the younger Hazard starting and scoring against Cyprus, while the older Hazard netted twice.
Belgium brought both Hazards to the World Cup, but Thorgan was still a fringe member of the panel, starting just the dead-rubber against England after Belgium had ensured qualification from their group. However, thanks to a stunning season at club level, he was finally handed a chance to shine in November, helping Belgium defeat Iceland 2-0 before scoring twice against Switzerland three days later.
The Red Devils lost 5-2 to Switzerland, but Hazard came away with his head held high after proving his worth in a dynamic attacking trio that included brother Eden and Dries Mertens. Hazard's performance was not a surprise as it was merely a continuation of the brilliant form he has shown at club level for Borussia Monchengladbach this season.
While Eden Hazard has been setting the Premier League alight with Chelsea, scoring ten goals and assisting nine more for Maurizio Sarri's side, Thorgan has been putting in equally impressive displays in the Bundesliga. The 25-year-old is battling the likes of Paco Alcacer and Robert Lewandowski for the top scorer prize thanks to his nine goals in the first half of the season, while he has also assisted six more in the league.
Both Hazards have also impressed in their respective cups, with Eden scoring twice in two Carabao Cup games, while Thorgan has three goals and an assist in two DFB Pokal outings. At their current rates, the pair will be neck-and-neck at the end of the season for their annual family wager.
"There has been a kind of competition between us for years. If you score the fewest goals, you have to invite the other to dinner at the end of the season," the Gladbach attacker told Sportbuzzer.
When people say @hazardeden10 is better than @HazardThorgan8 ... 😉 #fohlenelf #UCL #BMGCEL pic.twitter.com/GyhyqUDItl

— Gladbach (@borussia_en) November 1, 2016
At two years older, Eden had a head start on Thorgan, and was even involved in goals before he was born. Both parents were footballers in Belgium, with mother Carine still lining out in the women's league when she was pregnant with her first son. "I was in her stomach when she was playing. She was three months pregnant," the Chelsea star told the Independent.
"I take after my mum as a player. My dad played at the back, chilled out, calm on the ball. My mum was a striker. I never watched mum play but I can remember going to see my dad play. Actually, I like to think that I am a mix of the best of them."
Due to that early start, Eden believes that he may have had it easier than the rest of his siblings - brothers Kylian and Ethan are also footballers.
"[Thorgan] deserves more praise than me because I think it's harder for him. Everything has come to me quickly, I played some good matches early in my career. He has always had to contend with, 'He's the brother of Eden…'"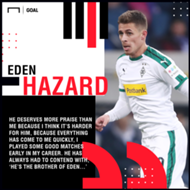 Thorgan doesn't see things the same way as Eden, hailing his older brother as one of the world's best: "I just have less talent than him," Thorgan admitted to Sport1. "I have to work things out that he might learn faster if I am being completely honest.
"Eden also worked a lot on himself last year. Right now, my brother is in great shape and wants to win the title with Chelsea. I'm a different type of player than my brother. Eden is one of the best players in the world."
The younger Hazard's fantastic Bundesliga performances have seen him earn the attention of bigger clubs across Europe, including one admirer that's currently closer to home. Borussia Dortmund are interested in a January move for the winger, which could see a league trophy end up at a Hazard household this season.
But instead of Eden, this time it will be Thorgan receiving the plaudits.