Opinion
How can Enyimba turn their Confederation Cup fortunes around?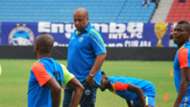 ---
COMMENT  Rotimi Daramola
---
Ahead of Enyimba's CAF Confederation Cup match against CARA Brazzaville in the Republic of Congo, the Aba-based heavyweights were in good spirits.
Their first group game against Djoliba AC ended in a 2-0 victory for the People's Elephant, and they sat atop their group heading into matchday 2.
If they'd taken a win in their second match, they'd have taken a solid grip on top spot, and as if to demonstrate how important the clash was, Enyimba set out to Brazzaville four days before kick-off in order to acclimatise.
Of course, no stone was left unturned in their preparations, but despite starting strongly, they conceded three goals in five miserable minutes to find themselves 3-0 down before 20 minutes had elapsed.
There was no coming back from that.
It may just have been a group game, but the loss sent Enyimba down to third in the group, with Ivorians Williamsville Athletic Club moving into top spot.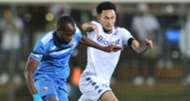 How can the NPFL side learn their lessons from their bruising defeat by CARA and turn their Confed Cup fortunes around?
In the match in Congo, Enyimba wasted a good number of goalscoring chances, especially in the first half of the game.
They weren't clinical, and of their 22 attempted shots on the day, only six were on target, compared to CARA's 20 shots on goal and 12 on target.
If they're looking to make it out of Group C alive, Enyimba's players need to start converting those chances. It's not enough to just create chances, and their accuracy in front of goal has to improve in the challenges to come.
Defensively, they also need to improve, and the finger of blame could be pointed at coach Paul Aigbogun here.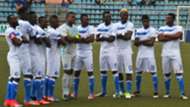 The CARA manager ensured that two of his attacking players, Cabwey Kivutuka and Dicha Liema, constantly found pockets of space behind Enyimba's defence to run into.
This gave Ikouwem Utin and Isiaka Oladuntoye many problems, and the duo suffered.
Enyimba also failed to deal with CARA's overlapping full-backs, and it was little surprise when their good work down the flanks led to the hosts' second goal.
Discipline most improve, and the defence must be much more compact in continental competition.
There was little evidence here that Aigbogun had studied his opponents and made his team tactically aware of what to expect. It was a worrying sign that Enyimba's defenders were — on occasion — seen to be running into one another.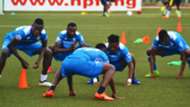 Keeping the opposition at bay is one thing, but Aigbogun must also learn how to build his team around his key players.
It was surprising that the prolific Freedom Omofoman—who impressed against Djoliba—was benched against CARA, only to be introduced after the visitors were 3-0 down.
Similarly, Oladuntoye's long-range passing and the movement of the full-backs can be key offensive devices for Enyimba if utilised correctly. Why were these elements—and Omofoman—restricted against CARA?
These failings must be addressed ahead of their next Confed Cup game—at home against WAC in mid-July.
If Enyimba fail to get the basics right, the hopes of a return to the glory days of the last decade will yet again lead to frustration.