Arsenal
Hoffenheim loan star Nelson explains decision to leave Arsenal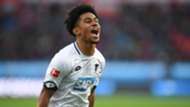 Arsenal teenager Reiss Nelson has said he moved to Hoffenheim on loan to become "a better footballer and a better person."
The 18-year-old has made a huge impression with the Bundesliga side in 2018-19, scoring six goals in 11 appearances in all competitions. 
Nelson broke through with the Gunners last season, making 15 appearances for the senior side in all competitions. 
But the England youth international opted for a loan switch to the Bundesliga this season in search of more regular minutes. 
The move has paid off thus far, with Nelson being named the Bundesliga's Rookie of the Month for October after tallying three goals and one assist in the month. 
"For me, I always want to be the best player I can be," Nelson told BBC Sport.
"I'm 18 and I thought going to the Bundesliga will give me a challenge and doing that would make me become a better footballer and a better person as well throughout life.
"I wanted to challenge myself and see what I could do. It's going well so far.
"It's incredible. But I've just got to keep it up. It's not just for the six games, I've got to do it throughout the season."
Though he's quickly found a home in Germany, Nelson still sees his long-term future with the Gunners and has said he wants to be a club legend in north London.
"Arsenal are my boyhood club," Nelson said. "I've been with them since I was eight, so that's 10 years.
"I just want to go back there stronger because at the time I was at Arsenal I was 16, 17 and I didn't feel confident.
"I didn't think I was a man, but now I'm feeling stronger and I think a couple more months or even a year in Hoffenheim will make me strong and give me the belief and confidence to go back to Arsenal and do very good there.
"I want to be an Arsenal legend. And, for England, it's the best. You can't beat playing for your country I don't think."