Bayern München
'Hoeness wanted Bernat to sign a five-year deal!' - Agent hits back at Bayern Munich president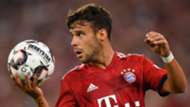 Juan Bernat's agent has questioned Uli Hoeness's criticism of Juan Bernat, insisiting the Bayern Munich president himself wanted the left-back to sign a five-year contract before he left for Paris Saint-Germain.
The Spain international spent four years with the Bavarian side before making the switch to France at the end of August. 
Hoeness said on Friday that the club made the decision to offload Bernat after a particularly bad performance in a 2-1 win over Sevilla in the Champions League, in which Bernat was substituted at half-time for his role in the Spanish side's goal.
"Bayern's wellbeing doesn't depend on Bernat. He was solely responsible for us almost being eliminated," Hoeness said. "That day, we decided we would sell him because he almost cost us all the success in the Champions League."
But Bernat's representative, Vicente Fores, says the Bayern chief is not telling the whole story, claiming he wanted the 25-year-old to stay in Bavaria.
"The statements of Mr Hoeness are very infelicitous," Fores told Goal and Spox.
"Juan Bernat always felt comfortable in his four years at Bayern and found many friends in the club and in the dressing room.
"He only has words of gratitude for this big club, but I would like to ask Mr Hoeness what he's thinking when he makes such statements.
"A few months ago he was the one who wanted to extend the player's contract for five more years."
Hoeness made the comments in an a tense press conference in which he and Bayern chief executive Karl-Heinz Rummenigge blamed the media of lacking "human dignity" by singling out their players for criticism.
The pair also insisted coach Niko Kovac has their support amid the Munich giants' run of four games without a win.