PSG
'He's a banana!' - Neymar-Cavani fallout blamed on Emery by former Santos coach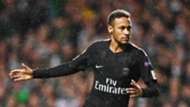 The blame for the fight between Neymar and Edinson Cavani can be laid squarely at the feet of Paris Saint-Germain coach Unai Emery, according to the Brazilian's former coach Muricy Ramalho.
PSG's €222 million man Neymar and Cavani argued over who should take a penalty in the side's 2-0 victory over Lyon on Sunday. Cavani eventually was the one to hit the spot kick, only to have it saved.
The duo also appeared to disagree on who should take free-kicks from dangerous positions, with Dani Alves intervening on behalf of his friend Neymar during the contest.
Emery later went on to say that designated free and spot-kick roles are not currently defined and that he would like his players to sort it out among themselves, though he will intervene if necessary.
And former Santos boss Muricy, who coached Neymar between 2011 and 2013, thinks that policy is a poor one, arguing Emery deserves blame for the in-fighting between the Brazil and Uruguay attackers.
"This team and that coach are very disorganised," Muricy said on SporTV . "It's his [Emery's] fault for what happened.
"Here, I always defend the coaches, but this one is guilty. It's a mess. Everything comes out of a lecture. There is no such thing.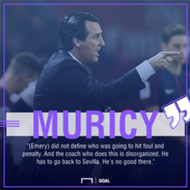 "Who is going to take a corner should be clear, who is going to take a free kick foul should be clear, everything should be set. This is the coach's mess.
"I am not against the European coaches, but this coach is not even in the same ball park [as Neymar]. He's a banana!
"He has no morals at all. He did not define who was going to take free kicks and penalties, and the coach who does this is disorganised.
"He has to go back to Sevilla. He's no good at PSG."
Former Gremio coach Celso Roth agreed with Muricy, slamming Emery for a lack of organisation.
"The financial question has nothing to do with the technical question," Roth said. "The team must be organised. If they're not organised, it happens.
"First, the person who takes the penalty should be the best player. Where do you see that? In games and training. That's a shame."
Despite the in-fighting, PSG won the contest 2-0 and are off to a perfect start to the Ligue 1 with six wins in as many games and lead second-placed Monaco by three points.