Mexico
Herrera made me rethink having a Mexican as captain – Porto coach Conceicao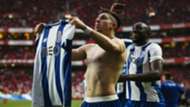 Porto manager Sergio Conceicao praised Hector Herrera after his goal in Sunday's 1-0 victory over Benfica, saying the midfielder has made him overcome initial concerns about having a Mexican as captain.
Conceicao has been a critic of the Mexico national team setup, clashing with El Tri over how his trio of Herrera, Jesus Corona and Diego Reyes are treated when injured. He also expressed frustration with the training plans El Tri coach Juan Carlos Osorio sent to his players ahead of the World Cup, calling it "absolutely ridiculous" for a national team to instruct a club's players how to train.
After Herrera scored the winner Sunday, though, he said the 27-year-old is a worthy captain for the team
"I had the chance to tell this story before. Before I joined the club, and, knowing FC Porto, I asked myself, 'Why was a Mexican player the team captain?' But then I started working with him and I understood why, as he is a great professional," he told the club's official site.
"He was linked to one or two less positive moments, but he is an extraordinary man, a wonderful professional and he creates a great mood. He is a true captain and I am happy for him."
Herrera found the back of the net in the 90th minute of Sunday's contest between Portugal's top two teams. While the victory puts Porto two points ahead of Benfica in the title race, Herrera said the team won't take anything for granted.
"It was a hard match. Highly competitive for both teams, but we knew it would be like this. We knew that, in a set piece or an individual play, any player could change the match.
"Both teams had their chances and, fortunately, we scored from one. We believed until the end that we could win here, knowing it would be hard. We are happy, but it's not over yet. There are four finals to go, and we can't make mistakes.
"It's a very important victory, one that brings us closer to our objective, which is the title. That is our objective for the season," he continued. "Tonight, we have to be happy with this victory, as it was very important, but we can't lose focus."
Porto takes on Sporting in the second leg of the Portuguese Cup semifinals Wednesday before returning to league play Monday against Vitoria Setubal.