Arsenal
'Henry a novice and wrong for Arsenal' - Petit wants experienced Wenger successor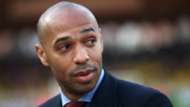 Thierry Henry would be the wrong choice to succeed Arsene Wenger at Arsenal, says Emmanuel Petit, with the legendary striker a "novice" in managerial terms.
With the man currently at the Gunners helm facing more uncomfortable questions regarding his future, a host of names have been offered up as possible candidates to fill a coaching void.
Wenger has given no indication that he will be stepping aside any time soon, but if that decision is taken out of his hands then Arsenal will be in the market for a new boss for the first time in 22 years.
Club icon Henry, who is fondly remembered in north London for breaking the Gunners' all-time goalscoring record, has been mooted as an option to cut his management teeth at the very highest level, with the Frenchman boasting the fan support that Wenger now lacks.
Petit, though, believes his former team-mate and fellow Premier League title winner needs to gain experience elsewhere before taking on such a role, telling SFR Sport: "He has his statue outside the stadium, and he benefits from an impressive credit in terms of affection and love not only from Gunners fans but also the whole Premier League.
"He's the player, after Ryan Giggs, who has made the most impact in the Premier League.
"That shows you the extent to which he is in people's minds and has been for a long time. If you add to that his passion for football, he could do something good - but he is a novice.
"He's the third assistant coach of Belgium. When you see Patrick Vieira, who is coaching in the MLS ... the MLS is different, but he belongs to Manchester City.
"So, bring back a former player? Yes, but I think that given Arsenal's current context it's not what Arsenal need right now. I think they need a seasoned coach who'll put things on the right track."
While Petit is against Henry returning to Arsenal at this stage, others have been quick to talk up his claims to a coaching post.
Manchester City boss Pep Guardiola has said: "If he wants to be manager, he has the talent to do it. But he has to decide, not me."
Former Barcelona president Joan Laporta has added of a man who admits it is his "dream" to one day take charge of the Gunners: "The same requirements we were appreciating in Pep Guardiola when we decided to put him as a coach of the first team, Thierry has many of them.
"If he wants to become a coach, and more specifically wants to coach Arsenal, then it is because he is convinced he will do it very well because he is looking for excellence all the time - just as when he was a player."