Piqué
'He was like Jack Nicholson in The Shining' - Pique reveals how Roy Keane terrified him at Man Utd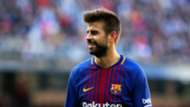 Having been on the winning side in World Cup, European Championship and Champions League finals throughout his career, Gerard Pique may seem like a character who cannot be fazed by terrifying situations.
But the long-serving Barcelona centre-back has not always been the calm and seasoned professional that fans see today. 
As a promising and unproven teenager at Manchester United, however, Pique came face to face with genuine terror when he angered the famously fiery Roy Keane.
Still just 18, the Spaniard had forgotten to turn his mobile phone off as the United players got ready for a game at Old Trafford, and when it started vibrating, he suffered the wrath of a furious Irishman, who started to look like Jack Nicholson's character in the horror film The Shining.
"One of my very first matches at Old Trafford, we were in the dressing room getting ready, and I was nervous as hell," he wrote in The Players' Tribune. 
"Imagine it - I'm 18 years old, and I'm sitting in that little dressing room putting on my socks next to Ruud van Nistelrooy, Ryan Giggs and Rio Ferdinand. I wanted to be invisible. I was thinking: 'Just do your job and go unnoticed.'
"So we're sitting there waiting for the gaffer to come in and speak to us, and I'm literally sitting right next to Roy Keane. The dressing room is so small that our legs are almost touching. There's no space at all.
"It's dead quiet. All of a sudden, you could hear this little vibration. Very soft. Bzzzzzz… Bzzzzzzz. Roy is looking around the room.
"Oh, shit. I realise it's me. It's my cell phone. I left it on vibrate, and it's in the pocket of my pants, stuffed in the clothes bag that's hanging right behind Roy's head.
"Roy can't find where the noise is coming from. Now he's looking around the room like a maniac. His eyes are darting everywhere, and he's trying to figure it out. You know the famous scene with Jack Nicholson in The Shining, when he bursts through the door? That's what he looked like.
"He screams out to everybody, 'Whose phone is that?!' Silence. He asks again. Silence.  He asks a third time. 'Whose. Bloody. F*****g. Phone. Is. That?!'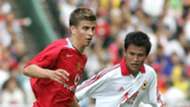 "Finally, I spoke up, like a little boy. Very softly, I said: 'I'm so sorry. It's mine.'
"Roy put his arm around me, and he laughed, and he told me not to worry about it... No, come on, of course I'm joking! Roy lost his mind! He went nuts in front of everybody! It was incredible. I almost shit myself. But it was a good lesson.
"Now, in 2018, everything is different. All these kids are on their iPhones before the matches. But back then, in 2006? It was a different world. You didn't do that. Especially not at United. Not in Roy's dressing room. It was one of a thousand mistakes that I made when I was at United."
Pique eventually escaped Roy's dressing room in 2008, when he joined Barcelona and has since cemented himself among the best in the world with the Catalan side.