Manchester United
'He made me into a robot' - Former Man Utd boss Van Gaal slammed by Schneiderlin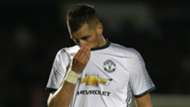 Morgan Schneiderlin has accused Louis van Gaal of turning him into "a robot" at Manchester United by removing all freedom from his game.
The France international was taken to Old Trafford by the Dutch coach in a big-money transfer in the summer of 2015.
Cantona's most controversial moments
He arrived as one of the most highly-rated midfielders in the Premier League, but left for Everton in January 2017 having struggled to make the expected impact.
Schneiderlin believes that is down to the methods of a manager who tried to stifle him, with Van Gaal seeking to turn him into a different player than the one he signed.
Speaking to French newspaper L'Equipe, the 27-year-old said: "This first year with Louis Van Gaal sticks in the throat.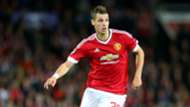 "I didn't take any pleasure on the pitch. He left me little freedom in my game, even though I have quite a lot of experience in the Premier League.
"With him, I felt like playing a robot. They said to me, 'You must never go and get the ball in this part of the pitch, you must not do this, that'. These instructions may have disturbed me a little.
The kids are NOT alright with Mou
"When a player wonders during a game – 'But what does the coach want me to do in this situation?' – he begins to be less efficient. Especially at Manchester United, in a context where all matches are scrutinised by the media and where one can quickly be criticised from everywhere."
Schneiderlin made 39 appearances in all competitions under Van Gaal in the 2015-16 campaign, but was an unused substitute in United's FA Cup triumph.
He then failed to break into the side once Jose Mourinho inherited the managerial reins, with a £20 million move made to Everton during the winter transfer window.