Eden Hazard
Hazard reunion ruled out by Thorgan as Eden mulls over Chelsea future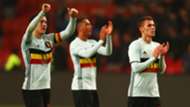 Thorgan Hazard says it would be "difficult" for him to play alongside brother Eden at club level, despite having previously spent time with him at Chelsea.
Two famous siblings found themselves on the books at Stamford Bridge between 2012 and 2015, with both having made moves to west London in the same summer.
While Eden has gone on to establish himself as one of the finest players in world football while with the Blues, Thorgan struggled to make an impact and eventually moved on to Borussia Monchengladbach following a successful loan spell.
He has also gone on to earn senior international recognition with Belgium, where he often forms part of the Red Devils set-up with Eden, and has seen a potential return to England mooted.
Thorgan Hazard is, however, not interested in reuniting with his older brother, with speculation continuing to suggest that Eden's days at Chelsea may be numbered anyway as he hints at a future switch to Real Madrid.
"We already play together for Belgium, even if we are sometimes not on the pitch together sadly," Thorgan told Sport1.
"It's a good feeling to play for your country alongside your brother.
"But, honestly? It would be difficult to play for one club with my brother. He is a bigger player than I am. I can learn a lot from him and must work hard to improve.
"I am a different type of player. Eden's one of the best players worldwide. When I joined Chelsea, it was clear that I'd be sent on loan like so many other talents. And that's why I went to Belgium for two years and I showed good performances there.
"When I played for the Blues, I was too young and not ready for the big step. Chelsea are a big club with outstanding players. It was a better decision for me to play for another team."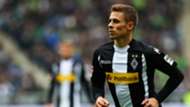 While football is very much at the centre of Hazard family life, with Kylian and Ethan also pursuing careers in the sport, Thorgan insists that they rarely discuss their careers with one another.
He added on his relationship with Eden: "Sometimes I watch his games and sometimes he watches mine.
"Then it's like: 'Cool, keep it up!' We don't talk football that much.
"You might think that's the case from the outside, but it's not like that. We talk family and the kids. We are in touch nearly every day, but football is not that big of an issue. Eden does not give me any advice. He's just happy for me and, of course, is incredibly proud of me.
"I am just not as talented and must work hard to learn the things he might learn much faster. I am being totally honest here. Moreover, Eden has worked a lot on himself in the past year. He's in top form and wants to win the title with Chelsea."