Sporting KC
Guzan red card spoils clash of first-place teams, paves way for Sporting KC win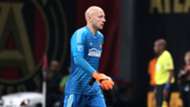 Wednesday's battles of Major League Soccer's conference leaders began as you might expect. Atlanta United's relentless attack was going toe-to-toe with Sporting KC's stingy defense and, early on, it was Atlanta that looked poised to take control and overwhelm SKC's defense.
Everything changed in the time it took Brad Guzan to wipe out Khiry Shelton with a sliding challenge outside of the penalty area. The ensuing red card was the easiest decision referee Mark Geiger had to make all night, and transferred the momentum to the visitors from Kansas City, who never gave it back.
While Guzan spent the final 56 minutes of the match in the locker room, it was another former Chivas USA goalkeeper who stole the show. Sporting KC's Tim Melia showed the massive crowd at Mercedes-Benz Stadium why he won the 2018 MLS goalkeeper of the year award, making save after top-shelf save to preserve a shutout against an Atlanta side that still generated some dangerous opportunities, even down a man, but couldn't keep their visitors off the scoreboard in an eventual 2-0 loss.
The home side will surely come away feeling aggrieved after a tide-turning decision went the way of the visitors in just the sixth minute. Josef Martinez was in an offside position when a deflected pass hit Jimmy Medranda and fell to him. Martinez finished the chance quickly, but VAR ultimately determined that Medranda did not make an intentional play on the ball, thus making Martinez offside.
Even with the disallowed goal, Atlanta United had control of the early play, and looked a good bet to break through, with Hector Villalba having returned to the lineup and Miguel Almiron and Ezequiel Barco testing Sporting KC wih their quickness. Guzan's red card quickly turned the tide though, and the extra man gave Sporting KC the control heading into half-time.
First-half red cards are a blow to any team, but can be particularly disruptive to Atlanta because the team just isn't built to be defensive, and doesn't have the make-up to take the air out of the ball. That showed itself for much of the second half, as Sporting KC was able to find cracks in Atlanta's defense.
Daniel Salloi's excellent finish in the 67th minute actually helped Atlanta regain control of the flow of play because once the Five Stripes had to chase a goal, the change in strategy suited them and led to some very good chances. On most nights, those chances would have been enough for Atlanta to grab a point or three, but Melia had other ideas. A pair of ill-advised challenges gave Atlanta United free kick specialist Kevin Kratz two golden opportunities to convert one of his trademark free kicks, but Melia stopped both of them with diving saves.
The packed house at Mercedes-Benz Stadium didn't have time to blink after Melia's second free-kick stop before a long pass found Gerso Fernandes, who rounded Guzan's replacement - rookie and emergency goalkeeper Paul Christensen — with a nifty move to secure the insurance goal and three big road points for a Sporting KC side that maintained its four-point lead atop the Western Conference, and moved atop the overall league standings.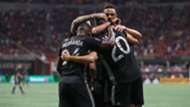 While the win allowed Sporting KC to leapfrog Atlanta United in the Supporters' Shield race, it didn't really help settle the question of which team is truly the best in MLS.  Guzan's early red card ensured that the match wouldn't be able to answer that question. What is clear is that both teams are on the short list of club you can call legitimate title contenders. And if you're still not buying Sporting KC as an MLS Cup contender, consider that Peter Vermes' squad has continued to get results even without injured star midfielder Felipe Gutierrez, and despite the fact they have yet to pull the trigger on a big-money forward signing, which the club is expected to make this summer.
Add a healthy Gutierrez and a high-profile forward to the Sporting KC side we saw win on Wednesday and you have a team more than capable of winning the club's first MLS Cup since 2013.
Sporting KC and Atlanta United don't meet again in the regular season, but a rematch in the MLS Cup final isn't out of the realm of possibility. The 33 minutes we saw of the two teams at full strength gave us a promising preview of what could have been a heck of a match, and a rematch could absolutely make for a memorable final. Assuming Guzan can avoid a red card if there is a next time.