France
Griezmann unveils France-Uruguay 'mate' boots for rerun of World Cup quarter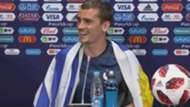 France and Uruguay are the two countries Antoine Griezmann holds closest to his heart - making tomorrow's friendly extra-special for the forward. 
And the Atletico Madrid star has chosen to mark the occasion with a pair of unique boots honouring both teams. 
Griezmann's love affair with Uruguay is well known, the phenomenon having started from his very first days as a professional. 
Upon arriving at Real Sociedad as a teenager the player fell under the wing of Carlos Bueno, a journeyman forward who represented the Basques in the 2009-10 season and also appeared 22 times for Uruguay. 
Bueno helped to instil in the young Griezmann a passion for Montevideo giants Penarol as well as a taste for mate, a tea-like infusion popular in Uruguay, Argentina, Paraguay and parts of Brazil. 
Griezmann continued to have an affinity for the Celeste even after leaving San Sebastian. 
The Frenchman struck up a deep, lasting friendship with Uruguay bruiser Diego Godin when the pair joined up at Atletico, with the defender the godfather to Griezmann's daughter. 
Griezmann is rarely seen without a mate in hand, while he caught the headlines during France's 2018 World Cup win when he refused to celebrate scoring against Uruguay. 
Now, with the stakes rather lower than in that 2-0 quarter-final victory, he will show his love of each nation with an extraordinary gesture of friendship. 
Paire spéciale pour un match spécial pour moi 🇫🇷🇺🇾 @pumafootball pic.twitter.com/SJXfPXmMRN

— Antoine Griezmann (@AntoGriezmann) 19 de noviembre de 2018
"A special pair for a special match for me," the forward declared on Twitter as he published a photo of his new boots, with one featuring a mate decked in the colours of the French flag and the other, the Uruguayan flag. 
Even the studs are carefully colour-coded to reflect each side, while the design also features a fresh star for France to celebrate their two World Cup triumphs. 
"I have great respect for them, I had friends and team-mate on the other side. I did not want to celebrate out of respect," Griezmann had explained during the World Cup when asked about his muted reaction to the goal. 
The player's professed admiration of Uruguay, however, has not always been well-received on the other side, with Luis Suarez in particular criticising his posture. 
"Just so you see that he is not Uruguayan, he is French and scored against us," the Barcelona striker fired after the match. 
Before the match Suarez had explained: "However much he says that he is half-Uruguayan, he is French and he does not know what it feels like to be Uruguayan. 
"He doesn't know the sacrifices we made to triumph in football with the few of us there are. He has his customs and his Uruguayan accent, but we feel differently."
France and Uruguay will face off on Tuesday in Paris' Stade de France, with Griezmann and Suarez both likely to lead their countries' respective attacks.