Africa Women Cup of Nations
Government assures Harambee Starlets' participation in Awcon finals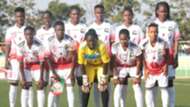 The government has come out to allay fears that Kenya might not take part in the 2018 Africa Women's Champions finals in Ghana.
Goal.com reported exclusively on Friday that Football Kenya Federation was contemplating pulling the team out of the tournament set to kick-off in under two weeks if they fail to get funds from the national government.
FKF requires Sh43 million, but Principal Secretary, Ministry of Sports Kirimi Kaberia dispelled the fears, affirming that Kenya will indeed send a team to Ghana.
"The team is already in camp. I can only appeal to them to continue with the preparations and leave the rest to us. The government will take care of them. We will be there for them.
"We are still consulting to ascertain if indeed the budget tabled by the federation is exactly what they require. Nowadays you don't just come to us and say that we need ten shilling and we just give you that.
"As a government, we are doing everything possible to make sure that the team participates at the Awcon."
Kirimi further urged the players not to be destructed by the off-pitch sideshows. "The team is already in camp, I want to ask them to go on with preparations and leave the money issue with the government. We will be there for them."
Starlets, who are pooled in Group B alongside Zambia, South Africa and Nigeria, are scheduled to face Zambia on November 18 in their opening match hoping to do better than they did two years ago in Cameroon.