Euro 2016
Gotze has my trust even if he doesn't have Bayern's - Low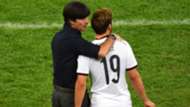 Joachim Low has insisted Mario Gotze remains an important player in his Germany set-up, irrespective of his struggles at Bayern Munich.

Gotze has entered his third season at the Allianz Arena but is not considered a crucial cog in Pep Guardiola's side – he has started from the bench in two of their three Bundesliga matches so far in 2015-16.

Low believes Gotze has earned his spot in the national team through his performances in last summer's World Cup – including his matchwinning goal in the final – and backed the 23-year-old to make his mark on Bayern's XI.

"I told Mario Gotze he should fight for his place at Bayern," the Germany head coach told reporters on Sunday. "There will always be injuries, there will always be chances.

"In Bayern, there might even be more competition than in our team. As a club coach who has matches every three to four days, you have to look at how the players work together.

"I am sure that Mario will have a lot of games if you check it at the end of the season. I've seen a lot of young players who had a bad patch like Mario had after the World Cup.

"But Mario always gave everything for us. He lives and breathes football 24 hours a day. He is technically good and has a great sense of direction in confined space.

"And Mario scores against strong teams like Brazil or Argentina. That is why I trust him."

Low, who has been in charge of the national team since 2006, also insinuated Borussia Dortmund midfielder Ilkay Gundogan can play a pivotal role in their efforts to win Euro 2016.

"Gundogan played very well against Poland," he said, referencing Friday's 3-1 win over their European Championship qualification rivals. "He gaves us time to breathe by attacking and gave us stability.

"He is almost back in the form he had two years ago and back then he was superb. Looking at the Euro 2016 he is an extremely important player. If he plays like this, it is hard to replace him."

Germany have no fresh injury concerns for Monday's visit to Scotland and Low suggested he will make only "one or two" tinkers to the XI from the Poland clash when they line up at Hampden Park.

With all six teams in Group D to play three more matches, the world champions are top with 16 points, Poland are second with 14, Republic of Ireland third with 12 and Scotland fourth with 11.

The top two automatically qualify for the finals in France next summer, with the third-placed team likely to go into the eight-team play-offs for the last four spots in the continental tournament.