Zlatan Ibrahimović
'God' Zlatan produces debut miracle after prophetic LA Galaxy team-talk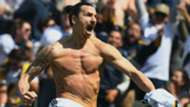 CARSON, Calif. — When Zlatan Ibrahimovic began his first training session with the LA Galaxy on Friday, he took a moment to ask his new teammates a surprising question. "Do you believe in God?" Ibrahimovic asked his rather perplexed new squad. After they all answered in the affirmative, Ibrahimovic delivered the punchline.
"I'm glad you all believe in me," the 36-year-old deadpanned, delivering a joke to break the ice with his new team.
After Saturday, Ibrahimovic's teammates were probably left wondering if he was joking. His jaw-dropping 40-yard blast of a finish, followed by a 90th-minute header, helped the Galaxy complete an improbable rally from 3-0 down to 4-3 winners in the first installment of their newly-born rivalry with expansion side Los Angeles FC.
It was a script fitting of Ibrahimovic's new Hollywood home, helping transform what seemed like a one-sided route into a rally for the ages, a match that immediately holds up as one of the most entertaining in MLS history, and easily one of the best individual debuts in league history.
"If you look back, every team I came to, the first official game I scored. I said I would not let it down today, I will score also today," Ibrahimovic said. "I was just waiting to come in because when you're losing 3-0 the adrenaline is pumping even more because you want to be able to do something, help the team, especially when they're in a difficult situation. I just wanted to come in.
"The fans were demanding Zlatan, and I gave them Zlatan."
Zlatan gave everyone in the stadium a moment of brilliance, similar to many others he has produced in his storied career, when he side-volleyed a 40-yard blast just six minutes after coming on. The finish drew an eruption of cheers and tied the match at 3-3.
"My original thought was: 'He's not shooting this. Is he really going to shoot this?'" Galaxy midfielder Perry Kitchen told Goal . "Two seconds later it's in the back of the net and we're celebrating in the corner."
"I had a coach I used to coach with and he used to have a saying. 'You've got to dare to be brilliant'," Galaxy coach Sigi Schmid said. "You can't do something brilliant unless you dare to be brilliant. Ibrahimovic is the perfect definition of a guy who always dares to be brilliant, and if you do that you can pull off some things. That's got to be a goal that's going to go around the world. I'm sure it'll be a YouTube sensation. It was fantastic."
THIS IS LA! @Ibra_official Welcome GOD! 💥💥💥💥💥💥💥💥 pic.twitter.com/We7cyyFyDk

— Jonathan Dos Santos (@jona2santos) March 31, 2018
As easy as Ibrahimovic made things look during his 19 minutes, he admitted afterwards that it was anything but.
"I felt like I played 40 games for my 20 minutes," Ibrahimovic said. "I was feeling everything, jet leg, I didn't play for a long time. I did the first sprint and I started to breath immediately, so when the second came I said 'this time I shoot, I don't run with the ball.' That's the ball that went in."
Ibrahimovic's wonder strike helped complete the comeback from 3-0 down, and that would have been enough to make the game an unforgettable one. Zlatan wasn't done though. He scored again in the 90th minute, heading home his second of the match to spark a celebration among Galaxy fans who were spared the embarrassment of dropping a result to their new LA rival.
Zlatan. On. Repeat. 🦁  #LAvLAFC pic.twitter.com/vY5KzyYnaW

— Major League Soccer (@MLS) March 31, 2018
Ibrahimovic's double gave Galaxy fans a memory they won't soon forget on a day that started out looking like a nightmare. LAFC dominated the opening half, taking a 2-0 lead into the locker room that could have easily been bigger . A Galaxy own goal early in the second half made it 3-0, and at that point Saturday looked destined to be a blowout, with Ibrahimovic's debut starting to seem like an afterthought.
The Galaxy appeared to hit rock bottom around the 60th minute, when LAFC — leading 3-0 —  was knocking the ball around to a chorus of Ole chants, as the sizable LAFC fan contingent made it feel like the Galaxy were the visitors at StubHub Center. In an instant, Servando Carrasco forced a turnover and fed Sebastian Lletget for a 61st-minute finish that gave the Galaxy some much-needed energy, and put LAFC on its heels.
"We came in (to halftime) down 2-0, obviously we were devastated, but we know we just had to get the first one and as soon as we get the first one everything changes," Lletget told Goal . "You could feel it."
Ibrahimovic was already warming up when Lletget scored, but Schmid could sense a shift in momentum and brought on his newest player just 10 minutes later, shortly after Galaxy fans began filling the stadium with chants of "We want Zlatan."
Ibrahimovic made his presence felt almost immediately, drawing attention from LAFC defenders and freeing up space for a Chris Pontius header that made the score 3-2 two minutes after Ibrahimovic came on.
LAFC had its chances to find a fourth goal, but hit the post on one play and sent a shot inches wide on another. That kept the Galaxy close enough for Ibrahimovic to do the rest, first with a wonder goal from 40 yards, and then with a last-minute winner he headed home to seal the victory in his debut.
You couldn't write a better script.

ZLATAN. STOPPAGE TIME. 4-3. #LAvLAFC https://t.co/9ya60MdXk6

— Major League Soccer (@MLS) March 31, 2018
It was the perfect ending to a crazy first installment of Major League Soccer's new LA rivalry, a derby in which the Galaxy now hold bragging rights following a match that won't soon be forgotten.
"The derbys I've played have had historical moments. This will be one of them. This is the start," Ibrahimovic said. "I just want to be part of the history that the Galaxy's doing in MLS. A new team like LAFC is doing new things and Galaxy has been there for many years.
"This is the first of many that will come, and hopefully we set the bar for this kind of game," Ibrahimovic said. "But let's hope it's more under control the next game, and not crazy like this."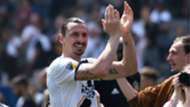 It only took Ibrahimovic one game to win over his new fans, as well as his new teammates, who welcomed him on Friday and celebrated with him one day later.
"We could tell from the first day he's a good dude, and wants to be part of the group," Lletget told Goal . "I think that played a part today. He felt like we were all behind him, and he showed his leadership."
Ibrahimovic showed the Galaxy that, while he may not be God, he's definitely someone special, and there's no denying that after Saturday's performance his new teammates fully believe in Zlatan.