FIFA 19
Goal Ultimate 11 powered by FIFA 19 | Paul Pogba is the best left central midfielder in the world!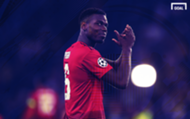 Manchester United midfielder Paul Pogba was voted as the best player in the world in his position, beating out stronger opponents becoming the seventh player to cement his position in the Goal's Top eleven powered by FIFA 19 as we attempt to identify who you think are the best footballers around the world.
Pogba led the table with 55% of the votes (4500) beating out the rest by a huge margin. Iniesta came in second place with 25% of the votes (2200) followed by Kroos, Saul  and Hamsik with 1436, 140 and 92 votes respectively. 
Stay tuned to this space as we ask for your help to identify the best attacking midfielder.