Liverpool
Wijnaldum believes Liverpool can compete for title after relief of top-four finish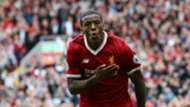 As soon as he saw Nathaniel Clyne receive and then release possession to Roberto Firmino, Gini Wijnaldum freed himself from the anxiety that enclosed Anfield to map out his next moves.
In a split second, the Netherlands international measured his run, checked those of his team-mates and plotted his finish past Brad Guzan in Middlesbrough's goal.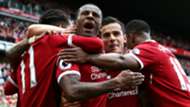 His plan was effective and the relief inside the stadium was apparent; Liverpool were heading into half-time 1-0 ahead and into the Champions League play-offs.
"When Clyney plays the ball to Roberto, I thought: 'Okay, I can get involved. He can play the ball to me'. At that moment, I was already ready to receive the ball," Wijnaldum explains in a boardroom at the grandiose Ritz-Carlton hotel in Hong Kong.
"Then, when he played it I had one good touch and I looked in front of goal and I didn't see anybody. [Daniel] Sturridge was there but I didn't see him at the time.
"I was like: 'I am now too far to the side so I will try to shoot not at the far post but the near post, hard and high, and hope it will go in'.
"Because the keepers, they always expect you to go to the far post. But something goalkeepers have always told me when I was playing at youth level was that they expect you to go to the far post. So I thought: 'I'm going to try it and see what happens'. I shot on goal and it worked."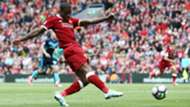 Wijnaldum's immediate thoughts afterwards echoed the sentiments of those on the terraces. "Finally! Finally!" was his first reaction "because we had a few opportunities, not big chances, which hadn't gone in.
"You then realise you are running out of time. It's a big difference if you go into the dressing room, being at 0-0 or 1-0 up.
"It was at the end of the first half, injury time, and I was like: 'Finally. The ball has gone in'. At that moment I was enjoying the crowd, how they were celebrating."
That opener ensured Liverpool would go on to achieve their base aim for 2016-17: being amongst the top four. And Wijnaldum has elevated ambitions for the upcoming campaign.
Klopp salutes Sturridge's fitness
"I won't say that we can immediately win the title, but I think we have a squad who can compete for the title. I'm confident that we will not make the same mistakes like last season, but that's my feeling.
"You do it as a team and not as an individual. We must make sure with each other that we don't make the same mistakes that we made last season. I have the trust and confidence.
"It's not only me, the whole team must have the confidence.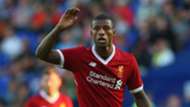 "Last season we started well, but after the New Year in January and February we had a lot of bad results, and I think that's why we didn't play in the competition for the title. I think we were great till January.
"I think we have a good base and we must learn from our mistakes and keep the things that went well, keep them or make it even better.
LFC won't sell Coutinho - Klopp
"Then I think we can fight for the title because we have a good team, only we made a lot of mistakes last season.
"We're going to see how far we are this season. I think we will learn from the mistakes that we have made, but we have to see how to undo them."
In those testing weeks at the turn of the year, Klopp's unswerving belief helped the turnaround. "He did the same that he did before," Wijnaldum detailed.
"In bad times, he tried to help us to keep the confidence to make us aware that we are good players and we have to use our quality because that's the only things that's going to help us in the situation where we were in that time. He stayed the same during the season.
"I didn't see him change even when we had bad results. Maybe I saw him change, but in a positive way to help us out. He's really passionate and that's what you can see on the sideline. He's not a manager who will get angry if you make mistakes, or something like that.
"He will get angry if you don't play with confidence or don't do the things that you're good at."
Wijnaldum feels better game management from Liverpool in the new season will ensure they do not repeat mistakes or have a similarly rough period.
The balance of employing the assertive approach Klopp advocates and doing whatever is necessary to get a result will be crucial.
"We must read the games better," the midfielder said.
"What do you need to win? You don't always have to win beautiful.
"I think Chelsea is a good example. Last season they were the best team. They knew what they had to do. That's what we needed to do. We must make sure we learn from the past and do it this season."