Ghana
Ghana FA to compensate Baba after injury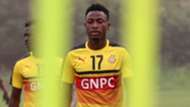 Ghana FA president Kwesi Nyantakyi has revealed that defender Abdul Baba Rahman, who suffered a knee injury last week against Uganda in the Africa Cup of Nations Group D opening game, will be compensated.
The 22-year-old was sent back to London for further checks, with results revealing he could be out of action for at least seven months.
"Baba Rahman's injury is an example of injuries that could end his career," Nyantakyi told Graphic Sports.
"I'm told that he would be out for about seven months. And in most clubs, if you don't play beyond two months or three months, you would be put on half salary or in some cases they would put you out of salary if you don't have an insurance to underwrite the salaries for you.
"The FA provided some compensation, about $5,000 to Otto Addo when he was injured while playing for Ghana. Moreover, Ben Kuofie, who was FA chairman then also visited him to show concern. Although the money was a token, the gesture was good.
"We did similar thing for Jerry Akaminko, who sustained a career-threatening injury in the run up to the 2014 World Cup and we're not opposing to a similar thing for Baba Rahman who got injured recently," he added.
Ghana have qualified to the quarterfinals of the tournament with a game to spare and each player, including Baba, will be paid $15,000 as qualification bonus.
Goal also understands that he will earn $13,500 if the Black Stars are able to win their quarterfinals and semi-finals games respectively.