Primera División
Furious Atletico fans mistakenly bombard Japanese journalist with angry tweets following transfer ban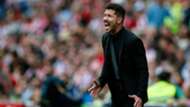 Atletico Madrid fans were left fuming by the decision to uphold their transfer ban for the coming window — unfortunately, many took it out on the wrong man!
The punishment for Diego Simeone's charges was confirmed in a ruling released on Thursday by the Court of Arbitration for Sport, known by the initials TAS in French. 
How Laporte snub angered Man City
Supporters lined up to berate the institution on Twitter, aiming their ire at the handle @tas.
But the victim was not the court, but rather Tasuku Okawa, a journalist and chief of Goal's Japanese edition! 
Hijo de puta @tas

— ATM (@kokitoATM_) 1 de junio de 2017
Son of a bitch @TAS.
No disimules y deja fichar al Atlético @tas

— Sr.Jimvill (@SrJimvill) 1 de junio de 2017
Stop messing around and let Atleti sign players.
Hijo de pu @TAS

— VOLVEREMOS (@joselulu20cr) 1 de junio de 2017
Son of a bitch @TAS
Que os den por culo @TAS

— Guille. (@CoIchonero) 1 de junio de 2017
Stick it up your ass @TAS
Aun no duermo por ustedes @tas

— Jane (@MrsJane7) 1 de junio de 2017
I still can't sleep because of you @TAS.
@TAS PORTATE BIEN

— Oblakismo (@ForkunCillo) 1 de junio de 2017
BEHAVE YOURSELF @TAS.
Beleaguered Tasuko was eventually forced to clarify he had nothing to do with the signing ban, given that he is based on a whole different continent that the real TAS, and he quickly became a new idol of the Atleti support.
Señores,me llamo Tasuku y me llaman "TAS". No hagan los tweets poniendo @TAS porque ustedes me están matando!! jaja

— 大川佑 | Goal編集長 (@tas) 1 de junio de 2017
People, I am called Tasuko and am known as TAS. Don't send your tweets with @tas in there because you're killing me!
Come to @Atleti. You're better than Gaitán.

— Boogie (@BoogieChilum) 1 de junio de 2017
El mejor tuit del año.

— Andrés García. (@andres27695) 1 de junio de 2017
Best Tweet of the year.