Manchester United
From top scorer to squad filler - Martial must do more to earn his place back at Man Utd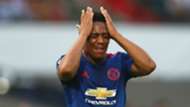 ---

COMMENT
---
Anthony Martial was not among the 18-man squad for Manchester United's 4-0 win over Feyenoord on Thursday. It wasn't that Jose Mourinho wanted to rest him, and nor was he injured. The truth is that the Frenchman just hasn't been playing well enough to warrant a place.
"He was OK for this game, it was just an option," explained the manager after the match. "He played last Sunday, I cannot play with 12 players, I cannot use on the bench 19 or 20. You wanted to see Henrikh Mkhitaryan, I wanted too. I cannot play all of them at the same time so it was just an option.
Blind's United transfer arranged via e-mail
"Players have to win their positions. They are friends, they are colleagues, they work together every day but at the end they compete between themselves to have more chances to play."
The message to Martial was clear. Following an excellent first season in England the 20-year-old has struggled in his second term and after a lengthy period during which his manager has backed him publicly, Mourinho has now taken to laying down the law. If the player wants to play regularly once more, he has to earn it.
It is a far cry from last term, when Martial scored 17 goals to finish top of United's scoring charts and was practically the first name on the teamsheet under Louis van Gaal for much of the campaign. In total he started 45 of 53 games following his deadline-day signing from Monaco, and undoubtedly earned his position as a regular.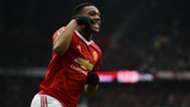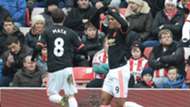 But while some have suggested that troubles off the pitch have helped to take Martial's mind away from his football and others have put his difficulties down to a sophomore slump, Mourinho says the Frenchman's lack of form is much more organic than that.
"First of all the teams are very different. The way the team played last season was different, I'm not saying better or worse, just different," he explained in his pre-match press conference ahead of Sunday's clash with West Ham United at Old Trafford.
Can Mourinho keep picking Roo and Ibra?
"[They are] different teams, and probably last season's was more adapted to Anthony. Probably he was feeling more comfortable playing that way, at that intensity, at that rhythm, of the ball possession and ball circulation.
"So probably he needs also some time, but in our squad - especially for these positions - we have Mkhitaryan, Lingard, Depay, Mata, Rashford, Martial... It's probably the position where we have more options, and you have one opportunity, you have two, you have three. If you don't bite, somebody comes and takes the meat."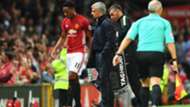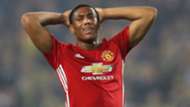 Under Van Gaal, Martial was always either up front or on the left wing. When fit, he was overlooked just once. With the club having committed up to £58 million on his signing, the Dutchman did everything he could to get their money's worth out of the then-club record purchase.
But Mourinho rightly needs to take the club in a different direction, and has to get the first team playing in his own vision in order to get them back on track after a difficult few years. Martial has found out very quickly that no matter how talented you are, a club like Manchester United cannot play always play to the strengths of a single individual. And the best thing he can do right now is take every chance that comes his way to show he can be a part of the Portuguese's regime.
Child abuse is sport's worst-kept secret
Thus far, he simply hasn't taken his opportunities. He has just two goals to his name so far this term, against Stoke City and Fenerbahce, but beyond that his performances have fallen well short of the standard he set himself last term. He has drifted out of games for long spells and has rarely looked a threat on the ball. If Mourinho's assertion that the team is not as naturally suited to the player's needs this season is accurate, then Martial needs to find a way to adapt. A big-money signing ought to be able to do that.
Martial showed last year that he has talent and composure by the bucket-load. But his reaction to his current malaise at Old Trafford will tell us whether he has the attitude and the belief to match.