David Beckham
From the treble with Manchester United to the American Dream - here's why David Beckham is a PES Legend!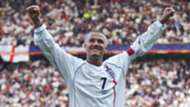 David Beckham wrote his own special and unique chapter in football history.
An epic and storied journey, a young boy from Leytonstone would go on to take the world by storm, becoming a global football icon and living the American Dream.
Born into a Manchester United-mad family, he always dreamt big and assured his school teachers he'd one day become a pro footballer.
He did more than simply become a pro – Beckham won six Premier League titles and a UEFA Champions League crown with his beloved Manchester United.
The midfielder also won league titles in France, Spain and the USA – and earned 115 caps for England.
His glittering career was recognised around the globe as he was twice named in the top two players in world football.
He was the player managers wanted to manage.
"I'm sorry I could never be his coach," said Jose Mourinho. "I would have loved it."
Beckham was also the player other players wanted to emulate.
"I would be very proud if, one day, I'm held in the same esteem as David Beckham," Cristiano Ronaldo once said.
And now you can experience the legend that is David Beckham for yourself.
Despite his retirement, Beckham appears in Pro Evolution Soccer 2018 – as one of many real-life legends available to play with in the game.
PES Legends - Beckham

David Beckham: From the treble with Man Utd to the American dream… #LegendsOfPES @officialpes

Posted by Goal.com on Friday, 30 March 2018
David Beckham is available on PES Club Manager 2018 until April 2. Download now!