Kaizer Chiefs
Former Kaizer Chiefs boss Steve Komphela hits out at Luc Eymael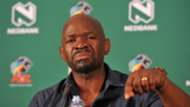 Former Kaizer Chiefs coach Steve Komphela has labeled Free State Stars mentor Luc Eymael a 'mercenary'.
The Belgium-born mentor apparently took a jibe at Komphela in the aftermath of their Nedbank Cup triumph, suggesting that while he has won a trophy in just two years in South Africa, some coaches with several years of experience cannot boast the same. 
Eymael first arrived in the PSL as Polokwane City coach two seasons ago, but left the club under a cloud of controversy.
He later joined Bloemfontein Celtic a few days after leaving Rise and Shine and began his nomadic journey with Ea Lla Koto at the beginning of the past season.
The two managers have made headlines in the past few months as they were involved in spats just after news broke that Eymael could replace Komphela as Chiefs coach.
Although, Komphela resigned after losing to Stars in the semi-finals of the Ke Yona competition, the Belgian coach has not stopped launching attacks in the direction of the former Bafana Bafana skipper.
The outspoken ex-defender said Eymael has not only embarrassed himself, but also insulted Stars and Chiefs after saying the Soweto giants must table an offer for him this week, or failure to do so would mean he will head back to Bethlehem for the new 2018/19 PSL term.
In a scathing attack aimed at the European manager, Komphela said the Nedbank Cup-winning coach lacks professionalism.
Speaking to Metro FM's Ultimate Sports Show with Thomas Mlambo, the former Gaziantepspor defender in Turkey said his counterpart lacks courtesy.
"There's a guy' uGeorge Bernard Shaw – there's one quote that he once gave' making reference to a pig' that you don't wrestle like a pig in the mud' because it will get you dirty," Komphela said.
"And besides' the pig just loves that. Which is why I ignored him'" he said to Mlambo.
"Luc Eymael – I wish he was here so that we could talk. Because again now' I'm responding here and he's not here' he's going to come up and say' no I was talking about him on Metro' and all that," he continued.
"I don't want that. I told him anyway in Bethlehem what I feel about him' and I don't move an inch' I still believe that," he explained.
"You see there's a big perception by some of these who come here to South Africa' thinking that we South Africans have to lie there and then they must make us carpets," he reacted.
"No' no' no. One big mistake is that when I lie down and then you accept that you must dust your feet' it's not that I'm a carpet' but I must [show] humility. It is not that I'm stupid," he lashed out.
"So' Luc Eymael' these are mercenaries. You can see the profile of this guy," he added.
"He comes to Polokwane City' he doesn't complete a contract. Lack of courtesy and professionalism," said the former Chiefs boss.
"He goes to Bloemfontein Celtic and all that. Now listen to what he says. I have never seen a human being think like this. Not unless this guy thinks very little of us as a society," lamented Komphela.
"He says he is giving Chiefs and SuperSport a week to respond to him. If they come in a week' then he's not going to go back there [to Stars]," noted the coach on radio.
"My man' how do you say such? Even in the press conference he was not even aware that he was busy insulting his current employers," Komphela asserted.
"Besides insulting the current employer' he's insulting the next potential employer. We as South Africans' this is the ill that we need to address in our society," he added.
"Abantu [people]' because they can easily identify with you' Steve Komphela' they can easily throw things at you," he explained.
"But somebody they cannot easily identify with then they all of a sudden have this respect. They need to have a paradigm shift," he concluded.