World Cup
Five things that cost Nigeria the World Cup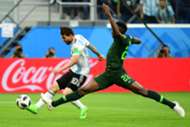 ---

COMMENT    By Solace Chukwu    

Follow on Twitter
---
Nigeria's sojourn at the World Cup came to a premature end in rather dramatic fashion this week. While some of the publicly stated aims (a place in the semi-final, for instance) did seem somewhat unreasonable pre-tournament, there was certainly a higher level of expectation than was met by a Group Stage exit.
The post-mortem has already begun, with fingers pointed in a number of different directions. These factors have ranged from the ridiculous to the plausible, but growth consists of taking stock and evaluating past performance for mistakes, so there is some merit in considering some of them.
---
Injuries, injuries
---
There were two key injuries pre-World Cup which severely hampered the Super Eagles, albeit in different ways. First of all, Carl Ikeme's unfortunate leukemia diagnosis, which ruled him out over a year ago, precipitated a great deal of intrigue through the qualifiers and going into Russia 2018.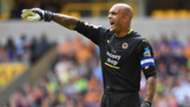 Having been able to bank on the Wolves' keeper as a safe pair of hands marshalling the rearguard, much of the preparation leading up to the Mundial was spent simply trying to forge an understanding between the defence and rookie Francis Uzoho.
The other injury, to winger Moses Simon, essentially forced a tactical rethink away from the 4-2-3-1 which had been used all through qualifying to a 3-5-2.
---
Slow starts
---
Taking time to pick up the pace was one of the hallmarks of the Super Eagles in qualifying under Gernot Rohr. The team would typically struggle early on, score on the half hour, and then come on strong afterward, especially in the second period.
This penchant came back to haunt the team in Russia. In fairness, it was already apparent in the warm-up friendlies; quite why it was not addressed remains to be seen.
Nigeria sleepwalked through the first half against Croatia, but could not click unto gear afterward, and succumbed meekly to a 2-0 loss. Then followed another dozy first half against Iceland, and yet another against Argentina. Only turning up for half the duration simply won't do on the biggest stage.
---
The great lull of China
---
While the attack had always been a point of concern, it blossomed into a real problem in Russia. Odion Ighalo led the line for three of six qualifiers, scoring only once. That perhaps ought to have caused a few furrowed brows.
Things got worse once the Mundial kicked off in earnest though. His indifferent showing against Croatia became something to aspire to by the time the dust settled after Argentina, as he plumbed new depths, missing by far the game's best chance, with the score still tied.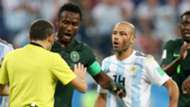 Captain John Obi Mikel similarly looked a shadow of himself in the position and role where he previously performed commendably in qualifying. It took a reversion to his former, more basic role, to coax the old quality out. By that time, though, three points were gone.
It's tempting to wonder if the less competitive nature of the Chinese league, as well as the timing of it, perhaps played a part in their bluntness going in.
---
Dress for the occasion
---
The world went quite literally out of its mind when Nike unveiled Nigeria's World Cup home kit. A resplendent green offering, it was hailed as one of the tournament's top strips even before a ball had been kicked, with many proclaiming Nigeria had won the kit World Cup.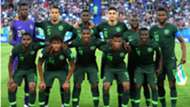 Alas, that number only saw action once in Russia. Instead, it was the gloomier dark green kit that was worn in both defeats to Croatia and Argentina. Incidentally, in the much fawned over home kit, the Super Eagles looked something approaching their vibrant selves, downing Iceland with ease. Correlation does not equal causation, of course, but who knows...?
---
Enemy territory
---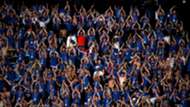 Regrettably, there was minimal Nigerian presence in the stands for the Super Eagles three games in Russia. The thunderclapping Icelandic support greatly dwarfed the green and white in Volgograd, while in St Petersburg, it was practically akin to playing in La Bombonera.
There is no gainsaying the fact that crowd support can be a real fillip for players, and there was only so long a young Nigerian side, comprising 18 World Cup debutants, could hold out.