United States
Five takeaways as the USWNT ends 2018 with wins over Portugal and Scotland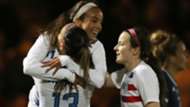 The U.S. women's national team closed out an unbeaten 2018 with a friendly wins over Portugal and Scotland, but it was anything but straightforward for Jill Ellis' side.
Ellis experimented a bit with her roster and lineup choices, and as a result the U.S. was much more disjointed than usual in a pair of 1-0 victories.
In the end the manner in which the U.S. won these two matches in Europe likely won't matter much, with 2019 now the focus. It was quite the 2018 though, with the U.S. going 18-0-2 and winning the SheBelieves Cup, the Tournament of Nations and the Concacaf Women's Championship.
Before we move on to 2019, let's look at five takeaways from the USWNT's wins at Portugal and Scotland.
---
Europe shows its strength in depth
---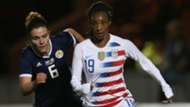 The U.S. took on the best Concacaf had to offer last month and had exactly zero trouble dispatching any and all-comers from their region, ending the Concacaf Women's Championship with 26 goals scored and zero conceded in five matches.
Against Portugal and Scotland, however, the U.S. hardly had things its own way. Though the results were there, the USWNT struggled to impose itself on the two games and could have easily ended up drawing either match.
Portugal finished third in its World Cup qualifying group and failed to reach France, while Scotland recently qualified for its first World Cup ever. Neither country is even in the top 10 of UEFA, according to the latest FIFA rankings.
Though the U.S. emerged victories against both countries, Portugal and Scotland's performance against the world champions was a clear demonstration of how deep UEFA is compared to other regions.
---
Defense holds firm as shutout streak continues
---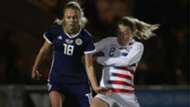 The U.S. is the favorite to lift the World Cup again next summer not just because of its dynamic attack, but increasingly because of its stout back line.
Though defense hasn't always been a strong point for Ellis' side, the U.S. has progressed to the point where it has now posted nine consecutive clean sheets. The last goal the USWNT conceded was in August, and it ended 2018 with just 10 goals conceded in 20 matches.
Becky Sauerbrunn and Abby Dahlkemper look to be forming an increasingly solid partnership at center back. The injured Tierna Davidson will have a fight on her hands to take away the position from Dahkemper come 2019. 
---
Ellis does some experimenting
---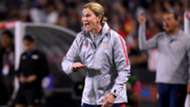 Ellis used the relatively low-stakes environment of the two games to try a few different looks formation-wise, alternating between setups with three and four at the back. Don't expect the team to permanently move away from its preferred 4-3-3, but Ellis got a chance to see how her team looked in a few different formations, something that could come in handy down the line.
It wasn't just the formations, though. The U.S. also deployed Alex Morgan at a wide attacking role against Scotland to give Carli Lloyd the start at target forward, and gave Crystal Dunn – the team's starting left back – a start in central midfield. Ellis also gave several newcomers a look over both games. Speaking of those new faces...
---
Newcomers fail to make a case
---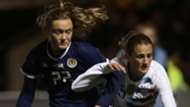 Ellis named seven players to this roster who didn't make the final cut for the Concacaf Women's Championship: Adrianna Franch, Merritt Mathias, Danielle Colaprico, Allie Long, Andi Sullivan, Jessica McDonald and Emily Fox. Of that group, Mathias and Franch didn't see the field in either match while Long played just two minutes versus Scotland.
While those three will have wanted more of a chance, the remaining four didn't do a whole lot to increase their odds of making next summer's World Cup squad either. Colaprico may have helped herself the most, showing a clean touch and solid distribution in two appearances off the bench.
McDonald scored against Portugal, but it was a fortunate finish that came after missing two earlier gilt-edge chances. UNC sophomore Fox started both games but didn't appear to be quite ready for the international level in her first two caps. Sullivan was solid if unspectacular while playing the first half against Portugal, and then wasn't seen against Scotland. In an extremely deep player pool, none of the newcomers will feel particularly great about the amount they bolstered their World Cup chances.
---
Franch still can't get a look
---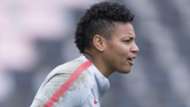 U.S. starting goalkeeper Alyssa Naeher was not named to either the NSWL Best XI or the Second XI this season. The same goes for backup Ashlyn Harris. The league's best goalkeeper instead was U.S. third-stringer Adrianna Franch, who earned Best XI honors due to her performances with the Portland Thorns. Though she is a regular call-up for the USWNT, Franch's stellar club form still has not translated to a single cap.
If there ever was a time to give Franch a shot, it would have been these friendlies. Ellis rotated her squad all over the field, giving a look to players like Fox, Colaprico and McDonald, who all played in both games after entering camp with one cap combined.
Unfortunately for Franch, her search for a first cap will continue into 2019. Naeher started against Portugal while Harris got the nod versus Scotland. Both goalkeepers had shaky moments but Ellis is still reluctant to give her third-stringer a shot. If it didn't happen in these games, Franch may now have to wait until after the World Cup to get her chance.