WTF
'First of a McFlurry of signings' – Fans reacts to Oxford City's McDonald's signing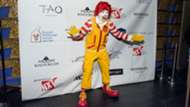 Oxford City's announcement that they had signed Matt Paterson came with a twist as the new addition was pictured penning his deal in a chain of McDonald's.
EXCLUSIVE: Ronaldo or Dybala goal offer
Naturally, this bizarre move caught the attention of social media, who were quick to ridicule the National League South side.
In maccy d's with a free pen from Barclays pen staying classy

— paul gibson (@PaulGibboGibson) June 2, 2017
ANNOUNCE RONALD @OxCityFC @Sporf @paddypower @SoccerAM @McDonaldsUK @stanjames @SportsJOE_UK pic.twitter.com/QOz1N4gDYV

— Rob 'Padz' Padbury (@Padz86) June 2, 2017
Signings in Mc Donald's that's a new one... thought ballers were on strict diets nowadays #mcmuffin https://t.co/C51qzky0yI

— Andy Johnson (@AndyJohnson08) June 2, 2017
can I have fries with that

— Turbo (@OUFC1976) June 2, 2017
I hope he got a free sausage and egg McMuffin with that deal @McDonaldsUK

— Chris (@BFC_Chris_) June 2, 2017
June 2, 2017
There were, meanwhile, at least a couple of sharp responses.
First of a McFlurry of signings.

— Alex (@onlyoneshedend) June 2, 2017
Matt Patterson has signed for @OxCityFC and I'm loving it

— Jack Himself (@jackgambardella) June 2, 2017
The burger chain, at least, are confident it will prove to be a successful move.
Good in the box and often lifting a cup, we're big fans of @OxCityFC's tasty new signing! https://t.co/j5J6HPsN1i

— McDonald's UK (@McDonaldsUK) June 2, 2017