Sulley Muntari
FIFPro blasts Pescara over Muntari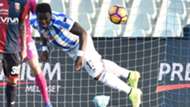 Worldwide representative organisation for professional footballers FIFPro is happy to see Sulley Muntari's one-match suspension for protesting racist chants overturned, but has taken a dig at the midfielder's Italian club Pescara.
The 32-year-old was set to sit out Sunday's league clash with Crotone after picking up two yellow cards - one for dissent after complaining of racist chants directed at him by Cagliari fans and another for walking off the pitch - as his side lost 1-0 at Stadio Sant'Elia last weekend.
However, an appeal by the 32-year-old, assisted by the Italian players union, Associazione Italiana Calciatori, had the ban rescinded on Friday.
"FIFPro is pleased that Sulley Muntari's one-match ban has been rescinded on appeal by the Italian football federation," the outfit announced on their official website.
"The World Players' Union believes Muntari was badly let down when he received two yellow cards after he unsuccessfully sought help from the referee over racist abuse while playing for Pescara in Cagliari, Italy, last weekend."
On Tuesday, a Disciplinary Commission upheld the ban, saying "the racist chants came from approximately 10 people, which was less than one per cent of about 2000 people who occupied the area of the stadium where the chants came from".
FIFPro, however, believe Pescara, who released a statement in support of Muntari after the ruling, should have appealed the decision instead of leaving Muntari to fight alone.
"FIFPro is surprised that Muntari's club, Pescara, did not lodge an appeal to overturn the sanction," the players' union continued.
"It took a last-minute appeal by the Ghanaian himself, assisted by the Italian players union, Associazione Italiana Calciatori (AIC), to have the ban rescinded.
"Officials from FIFPro and the Professional Footballers Association of Ghana, spearheaded by Anthony Baffoe, have been offering support to Muntari in recent days."
Following Sunday's incident, FIFPro had called on the ban to be "rescinded", arguing that "Muntari was well within his rights to approach referee Daniele Minelli, as the first point of reference, to make his grievances known and seek a solution".