Gaming
FIFA Ultimate Team: Vitality Rocky defeats Shellz to win Championship Series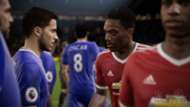 Vitality Rocky scored a dramatic last-minute winner to defeat Shellzz and win the FIFA 17 Ultimate Team Championship Series in Berlin on Saturday.
British surprise package Shellzz - real name Shaun Springette - looked on course to shock the more high-profile Rocky by beating the Frenchman on his favoured Xbox One console to secure $160,000 in prize money.
But Rocky - real name Corentin Chevrey - netted with just seconds left on the clock through legend card Pele to take a 5-4 aggregate lead in the thrilling two-legged matchup.
After a qualification process involving millions of players, the FUT Championship Series pitted the top 32 gamers - 16 on Xbox One and 16 on PlayStation 4 - in a knockout tournament, with the top eight booking a spot at the FIFA Interactive World Cup in London.
Shellzz won the PS4 divisional tournament while Rocky took the Xbox half to set up a Britain vs France clash in the grand final. Each player had a leg on their 'home' console, with the away goals rule applied.
The Grand Final at #TheBaseBerlin: @shellzz_22 vs. @Vitality_RocKy #FUTChampions

WATCH LIVE https://t.co/cg4NS5XysD pic.twitter.com/DKyMGHXGIm

— EA SPORTS FIFA (@EASPORTSFIFA) May 20, 2017
Rocky looked to be in pole position to claim the six-figure windfall by winning his away leg on PS4, with Lionel Messi and Luis Suarez scoring in a 2-1 win after Cristiano Ronaldo had given Shellzz the lead.
Shellzz's counter-attacking style continued to trouble the more possession-oriented Rocky, however, and he roared back with a brilliant performance on Xbox to take a 3-1 lead through goals from Ronaldo, Neymar and Suarez.
Rocky turned to a number of legends cards in reply, however, and was eventually rewarded. After Suarez had grabbed a goal to make it 3-2 and leave Shellzz up only on away goals, Rocky struck in the dying seconds through Pele just as his opponent appeared to have held on.
As well as a place in the Interactive World Cup, however, Shellzz also pockets a handy $80,000 of his own in prize money as the runner up.
Update: The @Xbox Divisional Champion in Berlin: @Vitality_RocKy . He'll play @shellzz_22 in the Grand Final #FUTChampions pic.twitter.com/2RZhE4CqEg

— EA SPORTS FIFA (@EASPORTSFIFA) May 20, 2017
The FUT Championship Series sees gamers assemble teams made up of the best players in the world - as well as legends from years past - by playing and winning games to earn online cash.
After a long online qualification process, the top 32 players in the world descended on Berlin to play for a weekend prize pot totalling $400,000.
Players were drawn into a round-of-16 bracket for each console and had to avoid losing two games to stay alive.
The losers in the round-of-16 games dropped into a lower round, where they had to win their next match in order to bounce back up to the main bracket.
#FUTChampions Update: This man @shellzz_22 just won $80k guaranteed and has a chance to win $160k in cross-console final! pic.twitter.com/eNknig977j

— Spencer FC (@SpencerOwen) May 20, 2017
Rocky won his first three ties and only needed to win one of two matches in the Xbox final against Gorilla Unilad to progress to the grand final, as his opponent had already lost one match.
Shellzz was in the same situation after starting the tournament with three wins on the bounce; he lost his first PS4 final match against Timox, but avoided a second loss that would have eliminated him by triumphing on penalties.
Maniika, Shellzz, TheStrxnger and Timox on the PS4 side and Gorilla Unilad, Vitality Rocky, Marlut and PSG Rafifa13 on the Xbox One side all qualified for the FIFA Interactive World Cup as the top eight players.