U17 World Cup
FIFA U-17 World Cup 2017: All you need to know about Paraguay U-17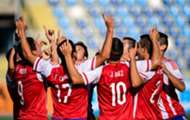 24 teams from around the globe are set to descend in India for the prestigious FIFA Under-17 World Cup starting on November 7.
In what will be India's first ever taste of staging a FIFA tournament, the best youth teams in the world will battle it out across six venues in the country with the event culminating in Kolkata.
With less than a month to go for the biennial event, Goal continues to bring a brief profile of the participating countries. In this segment, we take a look at Paraguay's squad, their road to India, past record and much more.
---
INTRODUCTION
---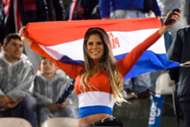 Nicknamed the Los Guaranies, the landlocked nation in central South America have a rich history when it comes to football. With innumerous World Cup qualifications and a strong showing in the Copa America over the years, Paraguay have held their own in a continent renowned for its soccer prowess.
Historically, the Latin American country has thrown up a host of international stars including defender Carlos Gamarra and goalkeeper Jose Luis Chilavert. One of the most recent imports to come out of Paraguayan football is former Manchester City striker Roque Santa Cruz who is also the all-time leading scorer for the country at the senior level with 32 goals.
Country: Paraguay
Confederation : CONMEBOL (South America)
Nicknames : Los Guaranies, La Albirroja
Coach :  Gustavo Morinigo
---
PAST RECORDS AND LAURELS
---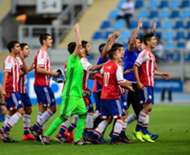 The Los Guaranies have a fairly decent track record at the FIFA Under-17 World Cup over the years. Their participation in India will be the fourth time in history that Paraguay have qualified for the main event.
Their most successful campaign in the World Cup came in the year they achieved their first qualification as they finished fifth in the 1999 Under-17 World Cup in New Zealand.
They managed to secure a berth in the next edition in 2001 in Trinidad and Tobago but failed to progress beyond the group-stage. Paraguay would then face a 14-year wait for their next World Cup until the 2015 Chile edition where they once again perished in the group-stages.
They have a better record in the South American Championship where they finished runners-up in 1999 to Brazil.
---
ROAD TO UNDER-17 WORLD CUP
---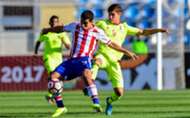 With four World Cup slots available for the CONMEBOL, the 2017 South American Under-17 Championship held in Chile served as the qualifying event for India.
With 10 South American nations participating, the teams were divided into two groups of five where the top six sides in either group would progress to a final stage of round-robin matches to determine the winner.
Drawn in the same group as giants Brazil and Argentina, Paraguay did superbly well to finish second in their pool and third overall to book their spot in the last six.
The Los Guaranies started their campaign with a hard-fought 1-0 win over Argentina before being held to a 2-2 draw by Venezuela. They then shared the points with Brazil after playing out a 1-1 draw and finished their group engagements with a 2-0 victory over Peru.
In the final stage, Paraguay started their fixtures with a plucky come from behind 2-2 draw against Brazil followed by another 1-1 draw against Ecuador.
They then turned on the style to dispatch hosts Chile 2-0 and Venezuela 3-1 before going down 1-2 to Colombia in their final encounter.
The eight points accumulated in the final stage earned Paraguay a third-place finish in the Championship and secured their passage to India as they remained the only side in the tournament to have score against eventual winners Brazil.
---
TEAM COACH AND IDEOLOGY
---
The Los Guaranies are managed by former midfielder Gustavo Morinigo who took over the reins of the squad in 2016. Morinigo has represented Paraguay at the World Cup in both the Under-20 and senior categories.
Having started his playing career with Libertad back home, the former midfielder went on to have a successful 15-year career where he played for major clubs in both Paraguay and Argentina.
After hanging up his boots in 2012, Morinigo took up a coaching role at Nacional where he worked for three years before taking over the charge of the Paraguay Under-20 squad in 2015.
After a one-year stint with the Under-20's, he went back to club-football coaching with Cerra Porteno before arriving in his current job.
With his boys having displayed a lot of attacking verve along with some resolute defending, Paraguay could be a tough test for any of the teams participating in India.
---
PLAYERS TO LOOK OUT FOR
---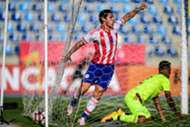 Martin Sanchez: The Paraguayan striker finished with four goals in the 2017 Under-17 South American Championship with crucial strikes against Brazil and Chile. A tricky and quick centre-forward, Sanchez has the talent to create ripples in India.
Fernando Romero also played a crucial part in the South American Championship with three goals.
---
FULL SQUAD
---
GOALKEEPERS: Ángel Roa (Olimpia), Jhonathan Martínez (Olimpia), Diego Huesca (Valencia - Spain);
DEFENDERS: Luis Zárate (Libertad), Marcelo Rolón (Libertad), Alexis Duarte (Cerro Porteño), Jesus Rolón (Olimpia), Roberto Fernández (Guaraní), Pedro Álvarez (Cerro Porteño);
MIDFIELDERS: Julio Báez (Cerro Porteño), Víctor Villasanti (Guaraní), Stevens Gómez (Cerro Porteño), Giovanni Bogado (Libertad), Braian Ojeda (Olimpia), Alan Rodríguez (Cerro Porteño);
FORWARDS: Fernando Cardozo (Olimpia), Antonio Galeano (Rubio Ñu), Fernando Romero (Nacional), Leonardo Martín Sánchez (Olimpia), Aníbal Vega (Palmeiras - Brazil), Blas Armoa (Sportivo Luqueño).