FIFA edge closer to pulling World Cup from Qatar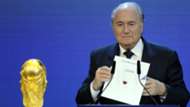 Reports on Sunday morning have indicated that there is a possibility the World Cup will be pulled from Qatar.
FOX Australia have claimed that the reason for such a decision would be due to the accusations towards Qatar's alleged effect on the voting to win hosting rights.
Reports from BILD revealed that 1.5 million GBP were transferred to the account of former FIFA Executive Committee member Ricardo Teixeira's daughter from Qatar, and that Brazilian administrators travelled on Qatari flights to Rio de Janeiro.
The report also claimed that the reason this has recently been revealed is due to the stability issues in the Gulf nation recently.
Sources from an unnamed Saudi member claim that England may receive hosting rights for the 2022 World Cup, meanwhile Head of Saudi General Sports Authority Turki Al-Shaikh claimed that the USA may host it.