Cameroon
Fecafoot explain reasons for Seedorf and Kluivert appointments as Cameroon coaches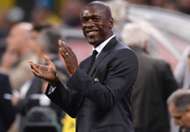 The Federation of Cameroon Football (Fecafoot) has defended their decision to appoint the Dutch legends Clarence Seedorf and Patrick Kluivert as head coach and assistant of the Indomitable Lions respectively.
The duo was named last Saturday as replacements to the technical department headed by Belgian Hugo Broos who was fired last November, following failure to qualify for the 2018 Fifa World Cup.
While the pair's coaching careers are yet to take off, they enjoyed illustrious playing careers with top clubs in Europe, winning major trophies.
Seedorf has never coached a national team before and has lasted less than six months in all his previous jobs.
The ex-Real Madrid and AC Milan star joins Cameroon fresh from a spell in which he failed to save Deportivo Las Coruna from La Liga relegation with an awful record of two wins in 16 matches.
This was after other unsuccessful stints with AC Milan where he is a legend and at Chinese side Shenzhen.
His assistant Kluivert has some experience with national team coaching following his time understudying Louis van Gaal in the Dutch national team at the 2014 Fifa World Cup.
Dieudonne Happi, president of the Fecafoot normalisation committee said the former Netherlands international teammates' decorated playing careers worked in their favour to land the Cameroon job.
"The two technicians, both aged 42, were chosen after a rigorous selection process that allowed the examination of numerous applications from Cameroon and abroad," Happi said in a statement.
"Their formidable (past) careers as professional players who seduced the whole world gives them a great experience of high level football. They are indeed ranked in the Fifa 100 list among the 125 greatest living players in history, established by Pelé.
"Both personalities expressed their commitment to write beautiful pages with the Indomitable Lions.
"Clarence Seedorf and Patrick Kluivert are at the forefront of modern football techniques and tactics in terms of their role in the technical management of AC Milan, PSG or the Dutch national team, the 2014 World Cup semifinalists in Brazil.
"The African roots of these two tacticians are for them an additional motivation."
Seedorf and Kluivert are expected in Cameroon this week as they embark on their first job on the African continent.
With Cameroon being reigning African champions as well as hosts of next year's Africa Cup of Nations finals, heavy expectations are already on Seedorf's shoulders.