KPL
Fear at Chemelil Sugar as KPL season nears an end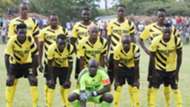 Chemelil Sugar players are yet to receive part of the seven-month arrears owed to them in salaries.
The millers, though safely off the relegation zone, have been circumnavigating through the rough financial terrains with players reportedly going for upto seven months without pay.
According to multiple sources within the club, who spoke exclusively to Goal, the club sponsors, Chemelil Sugar Company has been undergoing financial meltdown in the past couple of months due to reduced production of Sugarcane which translates to low revenue.
With only four rounds of Kenyan Premier League matches left before the end of the season, which will set the stage for players movement next season, Chemelil Sugar players are now a worried lot, with fears that those, who may opt to leave the club at the end of the season are on the brink of losing part of what is owed to them in arrears.
"I've even lost count of what is owed to me. For the last seven months, the management has not been consisted with the payment. Sometimes we are paid Sh6000 or even half of that in cash and in such circumstance, it's hard to keep the record," said one of the sources, who spoke to Goal on condition of anonymity.
Chemelil Sugar players now claim that some top officials of the club are colluding with external forces to 'defraud' them of their money.
"We requested a meeting with the Company's Managing Director last week, but an official (name withheld) came with a letter purportedly written by MD, read it to us, though our grievances were not addressed.
"We were told that the club owes KPL money and they need to take advance to pay players. That week players were given Sh5000 which is not even enough to pay rent."
"The biggest fear at the moment is that, so players may lose part or the entire amount owed to them should anyone leave the club after the end of the season. I don't know what will happen, whether we'll be paid or not."
Numerous attempts to get a word from Chemelil Sugar FC technical bench have bore no fruit with our phone calls going answered. 
Chemelil are set to play Tusker FC in the mid-week clash next Wednesday at home.