African Nations Championship
Fans divided on whom to blame for Kenya's Chan failures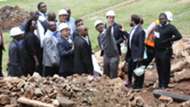 Kenyan football fans are divided right in the middle, whether Football Kenya Federation President, Nick Mwendwa should take full responsibility for Kenya's failure to host Chan 2018.
The Confederation of Africa Football (Caf) on Saturday took away Chan hosting rights with the continental football body city the country's infrastructural unpreparedness and the heightened political environment ahead of the forthcoming Presidential polls.
Kenya was handed the hosting rights over three years ago but the country dragged its feet in preparing the ground, with the government only approving a Sh4.2 billion budget two days before Caf's shocker.
While the federation bore a bigger portion of the blame for not doing enough to push the government to release the funds in time, a section of fans believes that Mwendwa is not to blame, rather saying that Sports Cabinet Secretary, Hassan Wario owes the country an explanation.
Fans took to social media to vent their anger on the missed opportunity while other took the chance to defend Mwendwa.
Georgeta Olek said: "The vilification should be directed to Jubilee leadership which failed to deliver on the five stadia promised."
Bill Oudia: Maybe he (Mwendwa) was assured by the government, so he thought it would happen. FKF does not build stadiums it all depends on government goodwill and with elections, the last thing you would expect is money channeled to building stadiums."
Ian Muyumba: "No one has given me a hint of what Nick did wrong or didn't do. He is being used as a scapegoat for our failures as a country."
Elliud Ndungu: "Nick Mwendwa is not to blame...blame those people who promised five stadiums... Afadhali (President) Moi alijenga Kasarani na Nyayo."
Kenya's replacement will be known after October 1 with those countries wishing ho host the games given 10 days to submit fresh bids.
This is the second time Kenya has lost the right to stage a Caf competition after being replaced by South Africa as 1996 Africa Cup of Nations hosts.
Caf decision technically locks Harambee Stars out of the competition to be graced by neighbours Uganda, Angola, Burkina Faso, Cameroon, Congo Brazzaville, Equatorial Guinea, Guinea, Ivory Coast, Libya, Mauritania, Morocco, Namibia, Nigeria, Sudan, and Zambia.