Fandi Ahmad
Fandi Ahmad's Singapore entertains but still a work in progress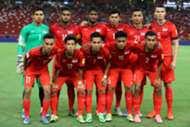 Fandi Ahmad finally took charge of his first game as Singapore's national team coach last night against Mauritius in a friendly match which ended in a 1-1 draw. Now for the Lions who are ranked 14 spots below their 155th ranked opponents, this wasn't a bad result.
All in all Singaporeans got a glimpse of what Fandi brought to the table and it must be said there were ultimately positives and negatives.
 Youth
His decision to give brothers Zulfadli and Zulqarnaen Suzliman their debut was a bold move on the part of the Singapore legend, but was the right call. Singapore football has long relied on the glories of yesteryear, so this was a long overdue decision.
It must be said that Fandi's willingness to give youths a chance is refreshing and allows Singaporeans to realise that there is talent for the future. Besides Zulfadli and Zulqarnaen Suzliman, Jacob Mahler of the Young Lions was another young talent who was given his first national call-up by Fandi, and is a talent that is earmarked for the future.
Additionally the performances of Zulfadli and Zulqarnaen were assuring though with the passage of time and more chances afforded to them, they can establish themselves as stars of the national team.
Progressive football
Singaporean fans often complained that during Sundram's tenure, the Lions tended to be conservative but against Mauritius last night, those moments were few and far between.
Despite conceding an early goal in the fourth minute, the Lions did not retreat but instead kept their calm and composure, going on to dominate their opponents. Yes, there were moments where the Singaporean crowd got restless when the midfielders began making one too many passes to the defence, but attack was the order of the day and that was what the Lions did, as they kept possession.
It is safe to say that Fandi has brought the entertainment factor back as the Lions' passing and neat one touch football brought the fans to their feet begging for more. Shahril Ishak's introduction in the second half was a massive boost for the team as his hold-up play was superb allowing his fellow forwards to be involved in the attacks. After all, it was Shahril who would eventually set up Ikhsan Fandi with his deft skill in the penalty box.
But, it was a shame that Ikhsan, who would go on to score the equaliser and his first goal for the national team, was guilty of missing a few golden opportunities. He will be happy with his goal but must do better.
 Wind of change
The most glaring of negatives last night was Fandi's slowness in making changes. For example Hariss Harun was abject last night. For a player of his standards, he should have been hauled off because the captain's passing wasn't the best and he held on to the ball far too long.
Yes, he may have been crucial in the build-up to Singapore's equaliser, but make no mistake because this was a performance to be forgotten for the Johor Darul Ta'zim player. Moving forward, it will be interesting to see if Fandi has the boldness to take off his star players should they under-perform.
In his post-match press conference, he mentioned about the collective effort of the team and how this match proved that the Lions can play football while being entertaining.
Of course Fandi was right but fans must keep in mind that he and his team are far from the finished article and are ultimately still a work in progress.
The Lions play again on Tuesday, taking on Fiji at Bishan Stadium in their final friendly of this international window.