Malaysia
FAM's list of chairpersons for 2017-2021 committees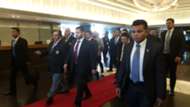 ---
BY         NIK AFIQ        Follow on Twitter
---
The Football Association of Malaysia (FAM) has released the list of chairpersons of FAM's standing, judiciary and club licensing committees, treasurer, and the national team managers for 2017-2021 term.
The list was finalised during the first 2017-2021 FAM Executive Committee meeting, chaired by FAM president Tunku Ismail Sultan Ibrahim (TMJ) yesterday.
TMJ himself will assume the roles of chairperson of the emergency committee, finance & management committee and the national team management committee, while FAM deputy-president Datuk Wira Yusoff Mahadi has been selected as the chairperson of the Local Competition Committee and the National U22 team manager.
Other than that, Malaysia's most accomplished referee Subkhiddin Haji Mohd Salleh has been appointed the chairperson for the referees committee while Datuk Baljit Singh Sidhu is the new chairperson of the isciplinary committee.
Here is the full list of chairpersons of FAM Standing Committee, Judiciary, Club Licensing, Treasurer & Team managers:-
FAM STANDING COMMITTEES
1. EMERGENCY COMMITTEE
CHAIRPERSON: HRH MAJOR GENERAL TUNKU ISMAIL IBNI SULTAN IBRAHIM
2. FINANCE & MANAGEMENT COMMITTEE
CHAIRPERSON: HRH MAJOR GENERAL TUNKU ISMAIL IBNI SULTAN IBRAHIM
3. NATIONAL TEAM MANAGEMENT COMMITTEE
CHAIRPERSON: HRH MAJOR GENERAL TUNKU ISMAIL IBNI SULTAN IBRAHIM
4. LOCAL COMPETITION COMMITTEE
CHAIRPERSON: DATUK WIRA MOHD YUSOFF MAHADI
DEPUTY CHAIRPERSON: MOHD FIRDAUS MOHAMED
5. INTERNATIONAL COMPETITION COMMITTEE
CHAIRPERSON: MOHD JOEHARI MOHD AYOB
DEPUTY CHAIRPERSON: DATO' S SIVASUNDARAM
6. REFEREES COMMITTEE
CHAIRPERSON: SUBKHIDDIN HAJI MOHD SALLEH
DEPUTY CHAIRPERSON: DATO' AMINUDDIN OMAR
7. INTERNAL AUDIT COMMITTEE
CHAIRPERSON: DATO' HAJI ISMAIL KARIM
DEPUTY CHAIRPERSON: SHAFIZAH UMAMAH ABDUL MUTALIB
8. WOMEN'S FOOTBALL COMMITTEE
CHAIRPERSON: DATO' SURAYA YAACOB
DEPUTY CHAIRPERSON: SHAFIZAH UMAMAH ABDUL MUTALIB
9. TECHNICAL & YOUTH FOOTBALL DEVELOPMENT COMMITTEE 
CHAIRPERSON: DATO' SRI SUBAHAN KAMAL
DEPUTY CHAIRPERSON: CHRISTOPHER RAJ ARALANTHU
10. FUTSAL & BEACH SOCCER COMMITTEE
CHAIRPERSON: DATUK HAJI ROSMADI ISMAIL
DEPUTY CHAIRPERSON: MOHD JOEHARI MOHD AYOB
11. SPORTS MEDICINE COMMITTEE
CHAIRPERSON: DATO' AB. GHANI HASSAN
DEPUTY CHAIRPERSON: DATUK MOHD HISAMUDIN YAHAYA
12. MEDIA & PUBLIC RELATIONS COMMITTEE
CHAIRPERSON: CHRISTOPHER RAJ ARALANTHU
DEPUTY CHAIRPERSON: DATO' SURAYA YAACOB
13. SECURITY COMMITTEE
CHAIRPERSON: DATO' SRI MUHAMMAD SABTU OSMAN
DEPUTY CHAIRPERSON: SAC DATO' AZISMAN ALIAS
14. INTEGRITY COMMITTEE
CHAIRPERSON: TAN SRI ASEH CHE MAT
DEPUTY CHAIRPERSON: DATO' SRI MOHD MOKHTAR HAJI MOHD SHARIFF
FAM JUDICIARY
1. DISCIPLINARY COMMITTEE
CHAIRPERSON: DATUK BALJIT SINGH SIDHU
DEPUTY CHAIRPERSON: DATO' DR ABD SHUKOR AHMAD
2. APPEALS COMMITTEE
CHAIRPERSON: DATO' SRI MOHD MOKHTAR HAJI MOHD SHARIFF
DEPUTY CHAIRPERSON: SHEIKH MOHD NASIR SHEIKH MOHD SHARIF
CLUB LICENSING
1. FIRST INSTANCE BODY
CHAIRPERSON: SHEIKH MOHD NASIR SHEIKH MOHD SHARIF
2. BOARD OF APPEALS
CHAIRPERSON: DR WIRDAWATI MOHD RADZI
TREASURER
DATO' HAJI ISMAIL KARIM
NATIONAL TEAMS
1. U22 MEN'S FOOTBALL TEAM
MANAGER: DATUK WIRA MOHD YUSOFF MAHADI
2. MEN'S FUTSAL TEAM
MANAGER: DATUK HAJI ROSMADI ISMAIL
3. WOMEN'S FOOTBALL TEAM
MANAGER: DATO' SURAYA YAACOB
4. WOMEN'S FUTSAL TEAM
MANAGER: SHAFIZAH UMAMAH ABDUL MUTALIB