Fábio Magrão
Fabio wants to continue at KL, reveals offer from Thailand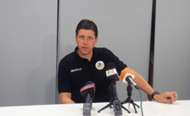 ---
BY        ZULHILMI ZAINAL       Follow on Twitter
---
Needing only a draw at home against Negeri Sembilan in their round 21 Malaysia Super League match on Sunday, Kuala Lumpur (KL) secured confirmed top-tier safety with a 2-1 win against the relegation-threatened side.
They went in front first through a header by Bobirjon Akbarov in the 42nd minute, but Alex Gomes equalised just a minute later. Indra Putra Mahayuddin left it late to hit the visitors with the sucker punch, when he netted the winner with three minutes remaining on the clock.
Goals scored in the KL-Negeri match
Amusingly, the Hawks boss Fabio Maciel still found the time to grumble about the win in the post-match press conference, saying that his side had to abandon his preferred gameplan in the match, for the sake of securing safety.
"For me tonight is our worst game; they didn't the play the way I like them to play. I don't like the way they played tonight, but we couldn't take the risk in the match. For example, against Perak (on Wednesday) we created 10 chances, Perak created two but we gifted two to them.
"Tonight Negeri had nothing to lose, while we did. I'm happy with the result. The result, not the way we played," remarked the Brazilian.
He also noted that his charges' slip-ups throughout the league campaign had cost them a much better league finish.
"We lost a few points, points that were already in our hands," said Fabio. "Which then made things more complicated for us. By my calculation, we've lost six points because of this.
"Now we are in eighth place, with those six points we could have been in fifth instead. This league is a little bit crazy!"
With his contract at KL set to end in November, Fabio said that he is happy there and hinted at his desire to stay on for another season, while revealing that he previously had declined an offer from a Thai club.
"We now have the Malaysia Cup, we'll do our best. It's my second year here and I'd known it was not going to be an easy season. I've received two, three offers, including one from Thailand just last month. But I said no because I still have a job and have to see my contract out.
"I cannot reveal which club it is out of respect for the coach they eventually hired, but my first response to them was I cannot (take up their offer).
"I'm happy here; not just with the team but also the city. I feel at home and I like life here. Come November, I'll sit down (with the board) and discuss whether the conditions for me staying on are aggreable," stated the former Timor-Leste manager.
Latest Super League standings
Also follow Goal Malaysia's new Instagram account!