World Cup
EXTRA TIME: Watch South African granny players sing during tournament in Russia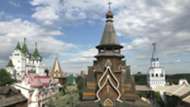 These South African grandma players are aged between 55 and 84 and they are using football to stay healthy. 
Now they've been rewarded with a competition of their own in Russia.
The local initiative was launched in 2003 by a Limpopo social worker, Rebecca Ntsanwisi. Since then, the movement for soccer grannies has spread across the country, and at least 40 informal teams have been established.
Now you can listen to how high their spirits are up there in Russia, standing beside some Russian grannies to sing their hearts out for South Africa!
When you are in Russia, you do as the South Africans do . #VakhegulaVakhegula pic.twitter.com/ylOAcYj4pj

— Tiyani wa ka Mabasa (@TTM16) June 21, 2018