South Africa
EXTRA TIME: Watch Banyana's Andile Dlamini and Bantwana's Jessica Wade in training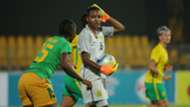 Bantwana are set to make their Fifa World Cup bow at Under-17 level in Uruguay. 
Then there's Banyana Banyana, the senior South African national team who will take part in the ladies Africa Cup of Nations in Ghana. Both tournaments take place in November.
Uruguayan ambassador in South Africa Cesar Rodriguez gave SA's Under-17 team this message of support.
"I hope you will have a good time, enjoy the tournament and don't kick your opponents too hard but on a more serious note, I wish you will win the cup. I hope that I will be here when you come back to celebrate the victory with you. You are still  young so take advantage of the opportunity and make the best of it," Rodriguez told Safa Media.
Meanwhile, Banyana has trimmed their squad of 31 down to 26 players. The squad has been in camp since Sunday, 21 October to kickstart preparations.
From that camp you can watch a video of Banyana, this one showcases Andile Dlamini practicing in goals.
Bantwana utility player Jessica Wade showing off some ball juggling skills during training. #U17WWC pic.twitter.com/AcaqSwXOrh

— SAFA.net (@SAFA_net) October 30, 2018
Preparation is key! @Banyana_Banyana goalkeeper @andile16sticks_ taken through her paces by goalkeeper coach Sean Louw. Talk about acrobatics! @SAFA_net @SasolLeague @SasolSA #limitless #afcon2018 pic.twitter.com/b0kezvB2Z0

— Banyana_Banyana (@Banyana_Banyana) October 30, 2018
Coaches lose their jobs so easy&I wonder how they are able to keep going.Yes Real Madrids transition from last season hasn't been great.I think the people to point fingers at are management for letting Zidane go but to fire a coach after a derby?

Which coach will be next..?

— Amanda toki Dlamini (@Amanda_Dlamini9) October 30, 2018