Orlando Pirates
EXTRA TIME: Looking forward to Orlando Pirates vs. Kaizer Chiefs Soweto Derby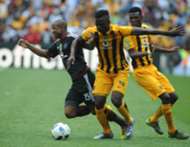 In this Twitter compilation you can follow how famous players, the media, the clubs and fans are anticipating the Derby.
Orlando Pirates hosts Kaizer Chiefs at 3:30pm on Saturday, and the fans have been talking about this game for weeks already.
Here's how they're beginning the final countdown as Twitter braces itself for the big game.
Tough questions at the #SowetoDerby Press Conference but I managed to deal with them  #HailTheChief  pic.twitter.com/Wp69yhUAIt

— IIKHUNE3216 (@IIKHUNE_32_16) October 26, 2018
It's derby time...Pirates or Chiefs???

— Mike Makaab (@MikeMakaab) October 26, 2018
High spirits in training with the #SowetoDerby upon us.#HailTheChief #Amakhosi4Life pic.twitter.com/CW7n9CBhe7

— Kaizer Chiefs (@KaizerChiefs) October 26, 2018
It was an honour to play in the Soweto Derby and represent the millions of Orlando Pirates supporters. Looking forward to the next big chapter of my journey. pic.twitter.com/NxrWORsnj6

— Thandani Ntshumayelo (@RealNtshumayelo) October 26, 2018
Special weekend in South african football when the two big rivals meet.i will never forget every matchday of every derby because it was a nice feeling playing in front of such big a crowd.#SowetoDerby #Amakhosi for Life 

— KMusona Official (@KMusonaofficial) October 26, 2018
An EPIC battle will commence in tomorrow's #SowetoDerby clash 

27 October 2018
 V 
 SS4 & SS10
 15:30 (CAT) pic.twitter.com/Xg80qmod6P

— SuperSport (@SuperSportTV) October 26, 2018
We are all looking forward to this wonderful spectacle of high class entertainment....all the best to @KaizerChiefs #SowetoDerby pic.twitter.com/gyOgpr1Ynf

— Lettuce Mathebula (@lettucemtititi) October 26, 2018
Talk ends here - let the lads do the talking on the pitch. Ours is to be the voice behind them & enjoy the spectacle. #SowetoDerby fever becomes real tomorrow. Once more, travel mercies, arrive alive & early at FNB @OfficialSMSA @KaizerChiefs (here with Beverly) pic.twitter.com/5Z4oMvjEEe

— Vina (@alfavina) October 26, 2018
#WozaWeekend Friday feeling....#SowetoDerby count down pic.twitter.com/slnQmwE9DB

— Lerato Circum🇿🇦 (@lcircum) October 26, 2018
Let's go #SowetoDerby pic.twitter.com/QiQCQq7da4

— Amahle . (@MahleS21) October 26, 2018
 #SowetoDerby Matchday Information
 https://t.co/xqdBmYzxLl
#OnceAlways pic.twitter.com/L5yn5WrnEq

— Orlando Pirates FC (@orlandopirates) October 25, 2018
There is a Huge Possibility that I Might deactivate my Account #SowetoDerby pic.twitter.com/rzuuGn64mD

— Karabo Mokwele  (@Karabo_Mokwele) October 26, 2018
I don't have a camp chair yazi.#SowetoDerby pic.twitter.com/hAWcIDKTns

— Lerato Mkhondo (@Lerato_Mkhondo) October 26, 2018
#SowetoDerby Avoid buying match tickets privately at this late stage to a sold out Derby. Real tickets  are printed on thermal paper therefore very easy for security to identify fake tickets@OfficialSMSA @B_Grobbelaar

— Dr. Jacques Grobbelaar (@Jacques_SMSA) October 25, 2018