Al Ahly v ES Tunis
EXTRA TIME: African fans look forward to the Caf Champions League final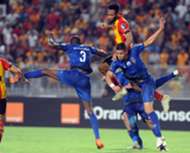 The continent's most successful club in Caf Inter-Club competitions, Al-Ahly is ready to set a marker in Friday's first leg at the Borg El Arab Stadium.
The Egyptian club will be looking to open up a gap before they face the Tunisians away next Friday night at the Stade Olympique de Rades.
The winner of this two-legged tie will represent Africa at the Fifa Club World Cup in UAE next month. Al-Ahly want to set the record straight after finishing runners-up in the last two seasons.
They will be confident thanks to a massive 60,000 fan support at the Borg El Arab. Below you can follow how the fans are anticipating the game on Twitter.
Between us, tomorrow we will deliver the biggest match in African Calendar #CAF Champions League Final@AlAhlyEnglish v @EsperanceSportT pic.twitter.com/xIW5ciW5a4

— Lux September (@Lux_September) November 1, 2018
The Red Devils will be aiming to win an unprecedented ninth Caf Champions League crown, having lost to Wydad Casablanca in the 2017 final #CAFCLfinal pic.twitter.com/alGwihO0kl

— SuperSport (@SuperSportTV) November 2, 2018
I take this opportunity to wish my former club ESPERANCE all the best in the CAF Champions League Final Let's repeat the feat of 2011,beat Al Ahly to be AFRICAN CHAMPIONS again.Come… https://t.co/2HPHRMzegt

— King Harrison (@thekingharrison) November 2, 2018
Where to watch the CAF Champions League first leg final Al Ahly vs Esperance pic.twitter.com/uz6iDBUhXH

— Collins Okinyo (@bedjosessien) November 2, 2018
The 33-year-old scored Al-Ahly's winning goal in the 2012 CAF Champions League final victory over Esperance. #TotalCAFCLFinalhttps://t.co/yqsTpC0Caa

— Michael Madyira (@MG_Madyira) November 2, 2018
VAR will be used in the #CAFCL final for the first time when Al Ahly host Esperance in the first leg. https://t.co/aKMcUJ1SU6

— SuperSport (@SuperSportTV) November 1, 2018
"Our main target this season is to win the Caf Champions League final as well as participate in the Clubs' World Cup in the United Arab Emirates." - Anice Badri of @EsperanceSTunis He has scored an incredible 7 goals so far in #CAFCL #CAFCLFinal

— DiskiAfrika (@DiskiAfrika) November 2, 2018
Do you know what today is?

CAF CHAMPIONS LEAGUE FINAL
CAF CHAMPIONS LEAGUE FINAL
CAF CHAMPIONS LEAGUE FINAL
CAF CHAMPIONS LEAGUE FINAL
CAF CHAMPIONS LEAGUE FINAL
CAF CHAMPIONS LEAGUE FINAL
CAF CHAMPIONS LEAGUE FINAL
CAF CHAMPIONS LEAGUE FINAL
CAF CHAMPIONS LEAGUE FINAL

— Football Brains (@FootballBrains1) November 2, 2018
BIG DAY for African Football.

Ahly clash Esperance of Tunis in the first Leg of the CAF Champions League final tonight in Alexandria.

Photo shows how some Ahly fans spent the entire night at the club's secretariat waiting to buy tickets for the game. Football is priceless pic.twitter.com/ux1ILXI8Kx

— Saddick Adams Obama (@SaddickAdams) November 2, 2018
The biggest club match-up on continent takes place tonight as Al Ahly 🇪🇬 takes on Esperance de Tunis 🇹🇳 in the first leg of the CAF Champions League final.

Al Ahly have the slightly better head-to-head record, but it's sure to be a closely-fought and fiery final #CAFCL https://t.co/nFk2IrTcN7

— Fabio De Dominicis (@fabiodedoms) November 2, 2018
Passion for African football exhibited by Al Ahly fans spending the night in the cold to get tickets to watch CAF Champions League first leg final against Esperance.
Passion by Egyptians is contributing towards development of the game in Africa.Kudos pic.twitter.com/73VcY4NBRX

— Collins Okinyo (@bedjosessien) November 2, 2018
Its the CAF Champions league final....@AlAhlyEnglish vrs Esperance
Venue:Borg El Arab stadium pic.twitter.com/voem4yxgDs

— Iddriss Abdul Rahim (@iddriss_rahim) November 2, 2018
VAR IN THE FINAL

CAF have confirmed that the VAR will be used in tonight's CAF Champions League final first leg when Al Ahly host Esperance in Egypt. #FARPost #CAFCLFinal pic.twitter.com/jQu0WP7C3r

— FARPost (@FarPostSA) November 2, 2018
CAF CHAMPIONS LEAGUE 2018 FINAL

Ahly vs Esperance : Head to Head Results#TotalCAFCL #TotalCAFCLFinal pic.twitter.com/NlQZzdKS7K

— DoThings (@DoThings117) October 31, 2018