Transfers
Der Gijp: Everton move 'would be crazy' for Hakim Ziyech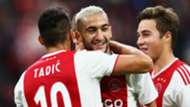 Arsenal and Liverpool are better clubs for Ajax midfielder Hakim Ziyech but a move to Everton would be 'crazy', according to Dutch television pundit and former player Rene van der Gijp.
The Morrocco international had indicated his readiness to leave the Amsterdam Arena outfit in the summer but could not secure a move yet.
Italian Serie A club AS Roma came close to signing the 25-year-old but failed to finalise a deal after holding talks to sign him.
Despite the disappointment, the prolific playmaker has been in top form for Erik ten Hag's side with four goals and three assists in the Dutch Eredivisie this season.
And the TV pundit (15 caps for the Netherlands) still believes that 'better clubs' will show interest in the player.
"I hope that there will be a better club than Roma – an Arsenal or Liverpool," said Van der Gijp to Veronica Inside.
"That would be crazy for that boy, he should not go to Everton."
Ziyech is with Morocco's national team as they prepare to continue their quest for qualification to the 2019 Africa Cup of Nations with a double-header against Comoros on October 13 and 16.