Manchester United
Eric Cantona: The Manchester United legend's most memorable and controversial moments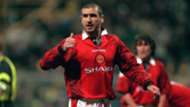 Eric Cantona is one of Manchester United's greatest players and arguably the most influential of the Premier League era.
Signing the Frenchman from Leeds United was the single most significant move Sir Alex Ferguson made in creating the team that dominated the early years of the new English top flight and set the Red Devils up to eventually surpass Liverpool's total of 18 league titles.
Giggs ready to manage 'right club'
Cantona's unique personality was part of what made him so popular at Old Trafford, but he also had a habit of courting controversy wherever he went.
For all the highs in his remarkable 14-year career, there were also a few lows - but it all added up to create one of the most fascinating stories of in Premier League history.
---
CANTONA'S EARLY CAREER
---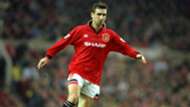 Born in Marseille, Cantona got his start in professional football with Auxerre under famous coach Guy Roux. He then joined his hometown team in 1988 but struggled to settle, going out on loan to Bordeaux and Montpellier before joining Nimes on a permanent basis.
At Nimes, Cantona was banned for a month after throwing a ball at a referee. At the subsequent hearing, he then proceeded to swear at the members of the disciplinary committee and his suspension was doubled, so Cantona announced he was quitting Nimes and retiring at age 25.
Despite his difficulties in Ligue 1, Cantona had a fan in France coach Michel Platini and was playing regularly for the national team. Platini persuaded him to back out of his premature retirement and, on the advice of Gerard Houllier, he sought a move to England by being offered to Liverpool and trialling with Sheffield Wednesday.
In the end, he was signed by Leeds United for £900,000. Immediately, Cantona found English football more to his liking and helped Leeds win the final First Division title before the formation of the new Premier League.
---
LEAVING LEEDS FOR MAN UTD
---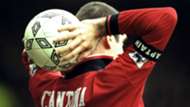 If Cantona had (mostly) managed to avoid controversy in England to that point, it did not last long.
In his second season at Leeds, Cantona had scored 11 goals in 20 games before the turn of the year but despite 18 months of success he had still not earned himself a fan in Leeds manager Howard Wilkinson, who was critical of his work ethic and attitude.
Then came perhaps the most important phone call in the first decade of the Premier League. Leeds contacted Manchester United to enquire about full-back Denis Irwin, who Ferguson and chairman Martin Edwards agreed was not for sale. When Fergie jokingly suggested he might swap Irwin for Eric Cantona, however, there was quiet at the end of the line.
Soon enough, a £1.2m deal had been agreed for Cantona to join United, sparking a furious reaction among Leeds supporters. The Whites went out and spent more than double that fee to sign Brian Deane to replace him.
The rest is history. Cantona inspired United to become the dominant team of the 1990s and beyond, being named the PFA Players' Player of the Year in 1993-94 before following that up with the FWA Footballer of the Year award in 1995-96. The Red Devils won four Premier League titles and two FA Cups with Cantona as their heartbeat, and in his best goalscoring season he netted 25 goals in 49 games having led the league in assists the previous year.
He is widely considered to be one of the greatest United players of all time and one of the greatest English football has seen in the Premier League era. It was not all, however, smooth sailing.
---
CANTONA'S KUNG-FU KICK
---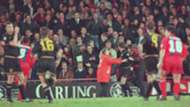 During the 1994-95 season, United were involved in a fierce battle for the title with Blackburn Rovers, who had spent big on stars such as Alan Shearer. Ferguson had splashed out on Newcastle United striker Andy Cole to boost his side's chances and on January 22, Cantona scored the only goal to secure a crucial 1-0 win over Blackburn at Old Trafford.
Three days later, however, Cantona's - and perhaps United's - season went up in flames. The Frenchman was sent off for kicking out at an opponent in a match against Crystal Palace and on his way to the tunnel, a Palace fan - later identified as Matthew Simmons - ran down to the front of the stand to allegedly shout "f*** off back to France, you French motherf*****" at him.
Cantona flew into the crowd at Simmons with a kung-fu style kick, and followed that up by punching him before being wrestled away by a United coach.
Condemnation was swift and United had no choice but to fine Cantona and announce he would not play for them again that season. The Football Association followed up with an eight-month ban and FIFA confirmed it would be enforced worldwide, meaning he could not go abroad to continue playing.
Cantona would never play for France again, and many expected him to leave England in disgrace - indeed, he eventually asked United to cancel his contract.
Ferguson, however, persuaded him to stay and Cantona's return was triumphant. He won two successive league titles before announcing his shock retirement at the end of the 1996-97 season aged 30, declaring a desire to go out at the top.
---
CANTONA IN THE MOVIES
---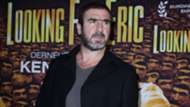 Part of Cantona's decision to retire early was his desire to pursue other interests - most notably, cinema.
Cantona began to appear in French films from the late 1990s onwards - starring as an obese police officer in The Overeater in 2003 - before making British appearances in Jack Says, French Film and Looking for Eric in 2008 and 2009. The latter was a Ken Loach-directed film about a United-supporting postman who receives advice from Cantona (appearing as a hallucination) as his life descends into crisis and boasts an 85% rating on review-aggregation website Rotten Tomatoes, who described Cantona's performance as "match-winning".
Carrick: It didn't work with Moyes
According to IMDB, Cantona's most recent appearance was in Anka, a Croatian movie released in February 2017.
---
CANTONA'S BEST QUOTES
---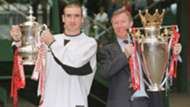 "When the seagulls follow the trawler, it's because they think sardines will be thrown into the sea. Thank you very much."
- The only statement Cantona made at a press conference held following his kung-fu kick at Crystal Palace.
"After his first training session in heaven, George Best, from his favourite right wing, turned the head of God, who was filling in at left-back."
- Cantona pays tribute to another United great after his death in 2005.
"My best moment? I have a lot of good moments but the one I prefer is when I kicked the hooligan."
- Cantona on the kung-fu kick, again.
"I'm so proud the fans still sing my name, but I fear tomorrow they will stop. I fear it because I love it. And everything you love, you fear you will lose."
- United fans continue to sing Cantona's name to this day.
"Deschamps gets by because he always gives 100 per cent, but he will never be anything more than a water carrier."
- Cantona on former France captain and current France coach Didier Deschamps.
"Often there are players who have only football as a way of expressing themselves and never develop other interest. And when they no longer play football, they no longer do anything; they no longer exist, or rather they have the sensation of no longer existing."
- Cantona, it is fair to say, has pursued a greater variety of different interests than most players since his retirement.
"I am not a man. I am Cantona."
- In Ken Loach's popular film Looking for Eric.