CAF Confederation Cup
Enyimba's Usman Abdullah proud despite botched Caf Confederation Cup title pursuit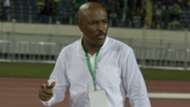 Enyimba head coach Usman Abdullah has applauded his players' fine display despite crashing out of the Caf Confederation Cup after a 3-1 aggregate loss to Raja Casablanca on Wednesday.
After a first leg 1-0 defeat in Aba, the People's Elephants had hoped for a win in Casablanca, but their dreams were dashed as the hosts earned a 2-1 second leg win to progress to the final.
Though disappointed with their failed title pursuit, the gaffer is happy that his team's last four finish helped the nation's recovered slot in the caf inter-club competition.
"I think that all of my boys did very well and they achieved something for themselves," Abdullah told media.
"Even though the club did not achieve anything. But If we look at it, we have been able to help the country recovered the two full slots lost this year.  Maybe probably next year, we might see how we would benefit from it. I am proud of my boys.
"I think that they did well despite the hassles we've gone through to reach the semi-final. Unfortunately, we are not going to be participating in the caf competition next year but it is okay because the team needs regrouping as we have a little bit ups and down.
"We need to sit down and correct most of the mistakes and improve in the certain places we are weak and strengthen more of the places where we are strong and see how it goes.
"Right now, I want to boys to go and rest for about two  to three weeks and enjoy the off-season with their family and we regroup again for the next season."