Asian Games
EFA apologise to FAM, throw Khalfan out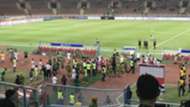 Following the incident in last night's international friendly between Malaysia U23 and United Arab Emirates U23, the Emirates Football Federation (EFA) have moved swiftly to punish those responsible.
The big fight that ensued deep into added time came about when Mohammed Khalfan perform a high kick on substitute Adib Zainuddin when the ball was no where near the point of the incident.
That spark a free-for-all as Malaysia players went to protect Adib as well as inflict some form of revenge back on Khalfan.
The whole incident last about 90 seconds with the chaos spilling out into the technical area. One UAE official was also caught on camera taking a chair and bashing Malaysian official.
EFA in their statement have indicated the removal of Khalfan from their Asian Games squad pending further internal punishment.
Meanwhile FAM have also moved quickly to submit a full report to Asian Football Confederation for the continental governing body to take the appropriate actions.
EFA statement in full;
The Emirates Football Federation (EFA) has played a sad role in the friendly match against Malaysia in Kuala Lumpur on Friday 10 August 2018 as part of the preparations for the Asian Games in Indonesia for the period of 10 August to 2 September 2018.

The Football Federation expresses it's regret and rejection of the events that accompanied the match where the main culprit is our Olympic player Mohammed Khalfan Al-Harazi, which is not related to the moral and sporting spirit, that is always a slogan for all our national teams and clubs during all matches, both official and friendly in various regional, continental and international championships.

Based on the preliminary reports submitted by the administrative body of the Olympic team, it has been decided to remove Mohammed Khalfan Al-Harazi from the list of the team participating in the Asiad and refer him to the concerned committees within the Football Federation to take the necessary procedures according to the regulation of the union.

The Football Federation has apologised to the Malaysian Football Federation for the unfortunate incident that do not represent the UAE players ethics, stressing that sport is first ethical before it is competitive.