European Championship
Eder dedicates Sweden winner to Italy team-mates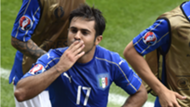 Eder dedicated his match-winning goal against Sweden to his Italy team-mates after they booked their place in the Euro 2016 knockout stages with a game to spare.
The 29-year-old's last-gasp strike proved decisive as the Azzurri followed up their opening-game 2-0 win against Belgium with a 1-0 victory over Sweden in Toulouse.
And aftewards Eder paid tribute to the effort his team-mates have put in at the tournament so far.
"I'm delighted first and foremost for all of my team-mates, considering how hard we've worked," Eder said. 
"I was happy after the Belgium game too because I felt it was a great performance, even if I didn't score.
"When one works so hard, the joys always arrive. There's no such thing as an easy game anymore. We knew it was going to be hard."
A tight match against Zlatan Ibrahimovic's Sweden was settled by a quick throw-in as Eder took advantage of some slack marking to dart into the box, before curling a low finish into Andreas Isaksson's bottom-left corner.
And Eder revealed that Italy boss Antonio Conte had his charges working on how to exploit Sweden from throw-ins prior to the clash.
"Details make the difference in football and even throw-ins matter - and these are things we have been working on," the goalscorer added.
"I dedicate this goal to the whole group, everybody who has worked with us this last year-and-a-half and been here from May 18 because we've prepared well, so I dedicate this goal to the whole group."