I-League
East Bengal's Debabrata Sarkar: 'ISL and I-League may not co-exist'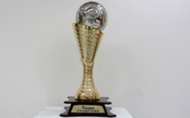 The much-anticipated merger between I-League and the IMG-Reliance owned Indian Super League (ISL) is yet to be finalised after a consensus could not be reached by the various parties concerned, as per East Bengal official Debabrata Sarkar. 
The decision was made on Saturday following a meeting between the All India Football Federation (AIFF) officials and representatives of Mohun Bagan and East Bengal at AIFF President Praful Patel's residence in Mumbai. I-League CEO Sunandho Dhar, AIFF General Secretary Kushal Das and AIFF Vice-President Subrata Dutta were also present at the meeting. 
"Mr. Patel informed the representatives that the revised roadmap of India football has not yet been finalised and before a final decision is taken, stakeholders including the Asian Football Confederation (AFC) would be consulted. Indian football has made rapid progress over the last few years and it's important for AIFF to take a long term view," a statement from the AIFF read. 
As of now, there will be a status quo between ISL and I-League. Praful Patel is expected to take up the demands of both the clubs and IMG-Reliance and discuss it with the AFC at the upcoming FIFA World Congress on May 11th at Manama, Bahrain. 
The Kolkata clubs had apparently made clear their displeasure over the efforts to make a unified league. 
Debabrata Sarkar, the representative for East Bengal, told Goal, "I am very unhappy with what was being proposed. We don't have anything more to say. Let Praful Patel come back from the FIFA World Congress and then we'll see what he has to say." 
He also felt that the proposal to have a longer I-League and ISL, running parallel to each other, is not feasible. 'I don't think ISL and I-League can co-exist," he added. 
More to follow...