Julian Draxler
Draxler released from Germany squad for Russia on compassionate leave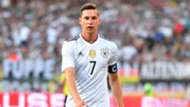 Julian Draxler will not feature for Germany in their international friendly against Russia after being granted permission to depart the squad on compassionate leave.
The 25-year-old has left the group to spend time with his family, though the exact reason for his exit has not been disclosed.
Draxler could yet re-join the group for the Uefa Nations League clash against Netherlands on November 19 but it is yet unclear whether that option will be taken.
No replacement has been called up by manager Joachim Low.
Writing in The Players' Tribune in the summer, Draxler revealed the strong attachment he has to his family and told of the sacrifices he has made to make his football dream a reality.
Julian #Draxler has been granted compassionate leave by Joachim #Löw and will therefore miss #GERRUS. #DieMannschaft pic.twitter.com/RLGii8qolW
— Germany (@DFB_Team_EN) November 12, 2018
"My entire childhood, I had just one dream: wear the Schalke shirt and play in front of my family," he said.
"My father gave me incredible support so that I could achieve that dream.
The ex-Wolfsburg man added: "My whole family — they didn't want me to leave home.
"When I told my mother and my grandmother, I cried. But I think sometimes in life you have to escape what you're familiar with if you want to grow.
The four-time world champions are scheduled to take on Russia in Leipzig on Thursday before facing the Dutch next week in Gelsenkirchen, where much of Draxler's family are from.
Germany are already without Marc-Andre ter Stegen, Jerome Boateng, Shkodran Mustafi and Emre Can for the double-header.