Manchester United
'Do you expect him to be happy with these players?!' - Mourinho defends Alexis frustrations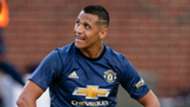 Jose Mourinho has defended Alexis Sanchez after he cut a frustrated figure in Manchester United's loss to Liverpool.
United slipped to a 4-1 defeat to their north west rivals in the International Champions Cup, meaning they are still without a win inside 90 minutes on their tour of the US.
Alexis was one of the few senior players on show for United, with a number of their star names still absent as they return from post-World Cup holidays.
Romelu Lukaku and Marcus Rashford are among those who are yet to join up with the squad, and with Anthony Martial having also left the tour to attend the birth of his child, Alexis is the only senior forward left with the team.
As such Mourinho, who still remains hopeful of adding two new faces to his squad before the transfer window closes on August 9, feels the Chile international's disappointment on the pitch is understandable.
"Do you want him to be very happy with the players he has around him? We are not playing here to improve the team or our dynamic or routines. We are playing here just to try to survive and to have some not-very-ugly results," he told reporters during a fiery press conference.
"Alexis is the only attacking player we have. We don't have wingers, we don't have strikers. He's the only one who is here, and the poor man is there trying his best, with the frustration of somebody that wants more.
"Against Milan he played fantastically well, and he did his best here. I don't think you are right to say he is not happy. If he is not happy he is not ready to play two consecutive matches of 90 minutes and 85 minutes working the way he worked.
"For me, these guys are phenomenal in terms of attitude and respect for the club. Really pleased with them."
United's tour of the States ends with a clash against Real Madrid on Tuesday before travelling back to Europe to prepare for their Premier League opener against Leicester City on August 10.