Chelsea
'Costa is saving his goals for Chelsea's season finale!' - Conte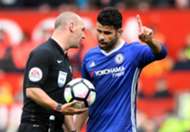 Antonio Conte believes Diego Costa will fire Chelsea to glory as they prepare for their FA Cup semi-final against Tottenham.
The Blues head into Saturday's game off the back of a 2-0 defeat at Manchester United, with Costa putting in one of his most disappointing performances of the season as his run of games without a goal stretched to six. 
Costa's run without goals is the worst of his Chelsea career, but Conte gave the biggest vote of confidence to his striker yet as he warned of a difficult week for his players. 
"No, no [I am not worried about his form]." Conte said at a press conference Stamford Bridge "I think he is keeping the goals for the finale of the season. It is the right moment to score.
"The pressure is normal in our job. When you arrive at the end of the season and you are in a good position to reach a good target, or a fantastic target, because a good target is to reach the Champions League and a fantastic, extraordinary target is to win the league.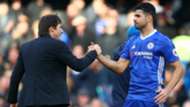 "It is normal to have this pressure, but I prefer to have this pressure instead of fighting for sixth, seventh, eighth place and to have this pressure."
Chelsea are preparing for not only FA Cup glory but Premier League success, as they face three games in eight days. The Blues's lead at the top of the table has been cut to four points after Tottenham's run of seven straight wins. 
And Conte admits that it will be tough to juggle his squad in the coming days as his side compete for domestic glory on two fronts. 
"It's not a simple situation now for us, because you have to consider that you have to play a semi-final in a great competition and then after two days and a half you have to play against Southampton, and Southampton have rested for 10 days.
"But sometimes it is very strange to face these types of situation, because I think the FA Cup is a great competition. There is a great tradition for this competition, it is the oldest competition in the world, and we want to respect this.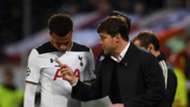 "But I think also when you get to quarter-final, semi-final and there is a clash with a game that you have to play in the league, this is a situation very clear for us, that we are in trouble, to face this situation.
"But we are ready, and then also I have to take the best decision, to find the right balance. Don't forget we have to play Saturday against Tottenham, Tuesday versus Southampton and then against Everton. This week is very heavy for us and I think it's very important for us."